For photographers, having a reliable and integrated ordering and invoicing system is crucial to keeping IPS (in-person sales) sessions – and your business – running smoothly.
Up until the IPS session, you have spent countless hours working with your clients and creating the perfect imagery for them. And now is the time you need to turn those hours into cash.
IPS sessions should be fun, exciting, and easy. It shouldn't mean jumping around between pen and paper and three different software apps. Juggling a mismatched process this way is a distraction for you and your clients, at just the wrong time.

To produce the best results, IPS sessions need to be focused and to the point. And, considering this is THE TIME to bring home the bacon, this is NOT the time to skimp and duct-tape a sales process together.
17hats & N-Vu: A powerful combo
By powering your business with 17hats and N-Vu, you can transform your sales experience into a smooth operation. Through N-Vu, you can prepare galleries that can be viewed in online and in-person sales sessions. By organizing your clients' IPS sessions and online galleries into one event, you are destined to stay organized.
But even better, N-Vu's intuitive shopping cart feature makes it easy to purchase images, prints, wall art, and albums. Ease is not to be underestimated. The easier it is to buy, the more you will sell!
New integration: Getting paid gets easier
Once images and products are selected, it's time to get paid. Remember, you are not a non-profit. This is where our exciting new N-Vu integration comes into play. Now, each N-Vu order will automatically create an invoice inside your client's 17hats Project.

From inside 17hats, you can instantly add payment plans and discounts to your invoice. Then click Live View, and clients can pay you immediately before leaving your (virtual or in-person) saleroom.
Now you'll be able to wrap up the sales process easily, with the payment complete right then. This allows you to be off to the races in the next step of editing and ordering.

This new 17hats and N-Vu integration provides a seamless ordering and payment process, so you can eliminate the unnecessary time gaps, frustrating back and forth, and fear of not getting the numbers right and calculating products and tax incorrectly. With our new integration, the details are taken care of for you, which lets you focus on being the master salesperson you are!
What about online galleries, you ask? We have you covered. When purchases are completed in an N-Vu online gallery, an invoice will automatically be created in the Contact's 17hats Project. If a friend or family member of the client orders from the gallery, a Related Contact will also be added to the Contact's Project.
The final stage of your sales process is knowing your numbers. By integrating 17hats and N-Vu, you also have the advantage of using 17hats Bookkeeping to understand your average sale, track your expenses for the project, and prepare your sales tax report.
Is N-Vu for you?
If you're a photographer interested in or already doing IPS sessions, then, yes – N-Vu is for you.
We know that organization is a must for a successful photography business. While 17hats has your lead, booking, onboarding, and fulfillment processes organized and systemized, you'll need to supplement 17hats when it comes to career-specific softwares such as N-Vu.
What's so great about N-Vu compared to similar apps is that N-Vu combines your gallery software, IPS software, and wall decor software all into ONE PLACE. You can get rid of those multiple apps, and take your business organization one step further.
Ready to get started? View our help articles to see how:
Special limited-time offer from N-Vu
Not using N-Vu yet? If so, boy, do have great news! To celebrate our new integration, N-Vu is extending your subscription for three months – free! – when you purchase an annual platinum or no commission plan.
Don't miss this money-saving offer! Sign up here and use code TOGETHER at checkout.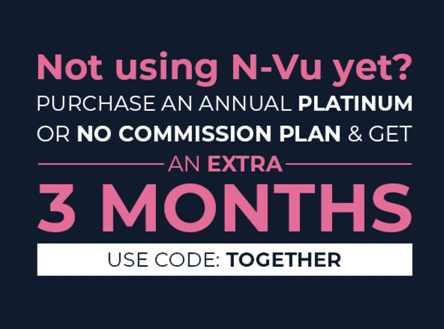 Signup for a free webinar hosted by N-Vu to learn more.