As 2020 kicked off, January and February brought excitement to the new year. Then COVID-19 took hold. Excitement turned apprehension and uncertainty. And in-person events hit a brick wall. For the photography community, that meant one of the most loved photography conferences, Shutterfest, was a no-go.

Shutterfest has a loyal following. And this tight-knit community of portrait and event photographers – led by the world renowned wedding photographer, Sal Cincotta – was definitely rocked by the cancellation. But, if you know Sal, you also know that his drive to help and serve the Shutterfest community far outweighs the emotional chaos of the year!

In true Sal fashion, he has recently announced a completely FREE conference, Glitch, to help all those willing to learn and level up their photography skills. All of us 17hats are happy to support this ambitious event.

There have been many different approaches to 2020. Some have allowed it to be a time of rest. Others have reconnected with what (and whom) they love most. And, still others have used the time to level up their game. While there are different takes so far, what we do know is that the show must go on in some way!
Just as Sal is reinventing conferences, we must all push through in our own businesses and find the inspiration in the chaos. If that inspiration hasn't hit you just yet, then let Glitch be it for you! If you're a photographer, come be inspired and learn from some of the top photographers in the country such as Vanessa Joy, Peter Hurley, Michael Anthony, and, of course, Sal himself.
While this is a virtual conference, Sal has created a conference that feels as LIVE as a conference can be in today's world. You will see LIVE shooting and LIVE audience engagement AND be able to ask questions LIVE.
Learn about pricing and packaging, posing, headshots, skin retouching, and maximizing your revenue. 17hats will also be there, helping you uncover the better way to build a business. And, again – it's all free!
Join Us At Glitch – November 17-19, 2020
Come join us! 17hats will be hosting two Lunch & Learns. At those events, I will dive into streamlining your process with Quotes, Contracts, and Invoices as well as Making Scheduling Easier through Online Scheduling. BYOPB&J – bring your own peanut butter & jelly!
What are you waiting for? Register now!
---
Special limited-time offer from N-Vu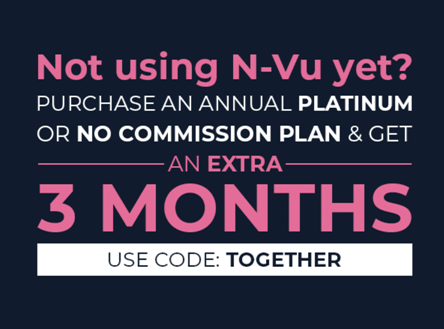 Not using N-Vu yet? If so, boy, do have great news! To celebrate our new integration, N-Vu is extending your subscription for three months – free! – when you purchase an annual platinum or no commission plan.
Don't miss this money-saving offer! Sign up here and use code TOGETHER at checkout.