For a lot of small business owners, it's not getting new business that is hard … it's how you handle the new business. Having an organized lead process with a Lead Capture Form for your business as a solopreneur is the solid foundation you need for success.
Where you start matters
Where your leads start their interaction with your business matters. It's inevitable that you'll receive leads in many different ways; phone calls, text messages, Facebook messages, in-person intros, Morse code, etc. But, absorbing new lead information through all those avenues can be chaotic. No, it will be chaotic. So, you need a plan for your leads.
Save time and make business easier by having your leads process outlined and mastered. A good place to start is with a Lead Capture Form – a simple link or embedded form that allows you to gather all the information you need from a lead to get started.
A Lead Capture Form can be added to your website as an embedded form or used as a link to place on documents, social media, or emails.
Outline and build your leads process first
Before you set up your lead capture form, you must know the steps you want each lead to take. Ask yourself first, what is your goal for your new leads to convert into clients? Do you want them to schedule a consultation with you? Do you want to send them your pricing or service guide?
After you know the goal of your Lead Capture Form, getting the right information from your lead to move forward will be easy. Your lead process should be repeatable for all of the services you offer.
Keep the Lead Capture Form simple
No matter how complex your service offering is, the lead process should be simple and easy to follow for the highest chance of converting your leads into clients.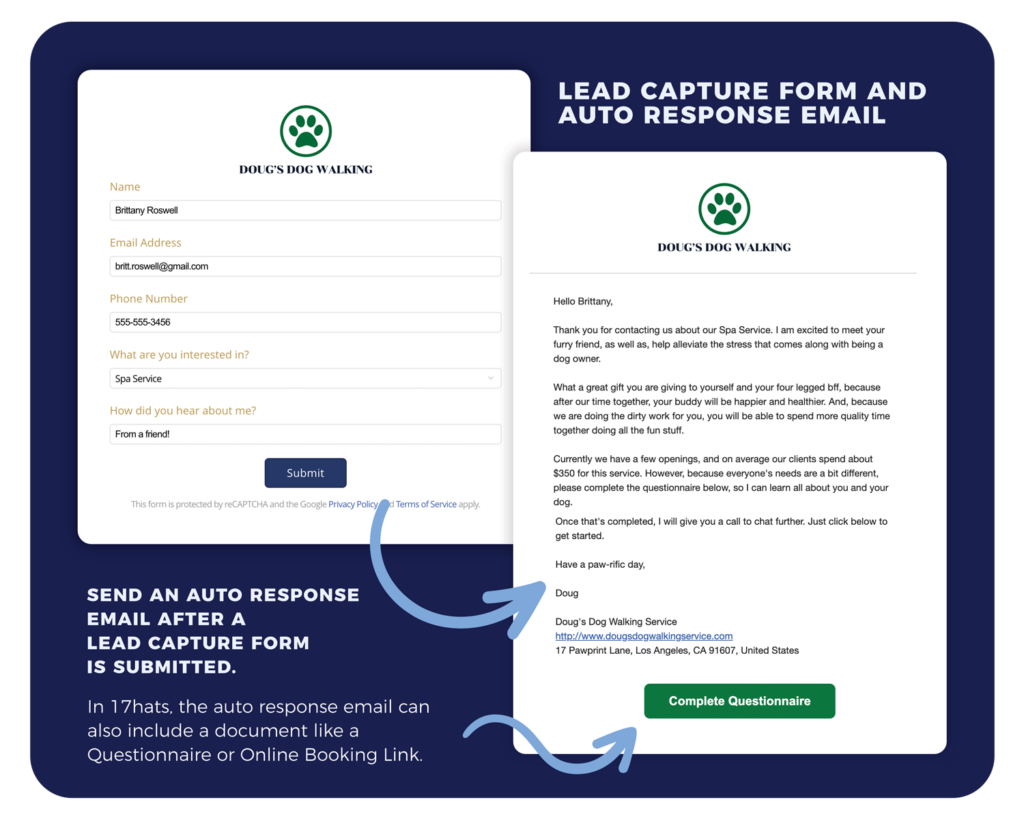 Keep the form simple by not asking too many questions. First, I recommend having no more than five fields or questions. Ask questions that will pertain to your service(s) that give you enough information to take the next steps into turning that lead into a client.
Move The Lead Forward
Getting back to your lead immediately is your best bet on landing them as a client. Waiting even just a few hours, allows the inquiry's excitement to fade, or they may take an interest in one of your competitors. In 17hats the easiest way to set up your Lead Capture Form is with an automated response email. (This is not a typical "we'll get back to you soon" email.) Create a pathway for your lead after the form submission.
Here are a few ideas to include in your auto-response email.
Send a link to your pricing or portfolio
Add an Online Scheduling link to book a consultation
Attach a document about what to expect from your services
Link to an online Questionnaire to see if they will be a good fit as a client
All of the items listed above should be done with the purpose to make the inquirer feel welcomed and that you're motivated to earn their trust and business.
Follow Up With Your Lead
Having a plan and using a Lead Capture Form saves you time by avoiding the back-and-forth messaging and phone tag of working with a new client. After you put these processes in place, don't forget to follow up! Each inquiry can require many follow-ups before converting into a client. Be sure to know your process to convert faster.
17hats grows with your business so that you may adjust your Leads process and Lead Capture Form to fit your needs. Learn more about Lead Capture Forms here. Or Join our free, live workshop on creating Lead Capture Forms in 17hats here.