As a small business owner, you understand the importance of creating and maintaining strong client relationships. Sending a Questionnaire to every new client can help you achieve this goal. By gathering information about your clients' needs and preferences, you can ensure that they receive the highest quality client experience possible. 
Also, sending questionnaires on a regular basis can help you keep tabs on your clients' needs and preferences, allowing you to adapt your services as needed. So why not give it a try? The benefits are definitely worth it!
When should you send a Questionnaire?
You'll want to have a Questionnaire ready for each new client to kick off their onboarding experience. With new clients, the sooner you can gather the information you need, the better. Your client will have a good understanding that you're serious about "getting things done" and will appreciate not having to repeat themselves later.
If you have long-term clients, you can send them a new Questionnaire once a year to keep their information up-to-date. This may result in extra sales too. You never know what your client needs until you ask!
What should you ask new clients in your Questionnaire?
Ultimately, this will be determined by the complexity of your project. However, I urge you to only ask questions that are pertinent to your project. I suggest adding five to 8 questions for your Questionnaire.
Be mindful of your intentions behind the Questionnaire and how you'll want to use answers to these questions later. These first few questions that you ask should be able to help you get a project started. Here are a few examples of questions you can ask for different professions.
Website Designer
What is the best day of the week to schedule website review meetings?
Do you own your own domain name? If yes, please provide the domain name.
Do you have written content and images for your website available?
Please list a few websites that you like here. If you can, be specific on why you like them or what features you like.
Will your team require website training after the new website is live?
Family Portrait Photographer
How many people (and pets) will be included in your family photo session?
Will you be bringing any of your own props with you? Chairs, Blankets, etc.?
Do you have a location in mind for your portrait session? If so, where?
How would you describe your family's wardrobe style? Classic, Modern, Colorful, etc.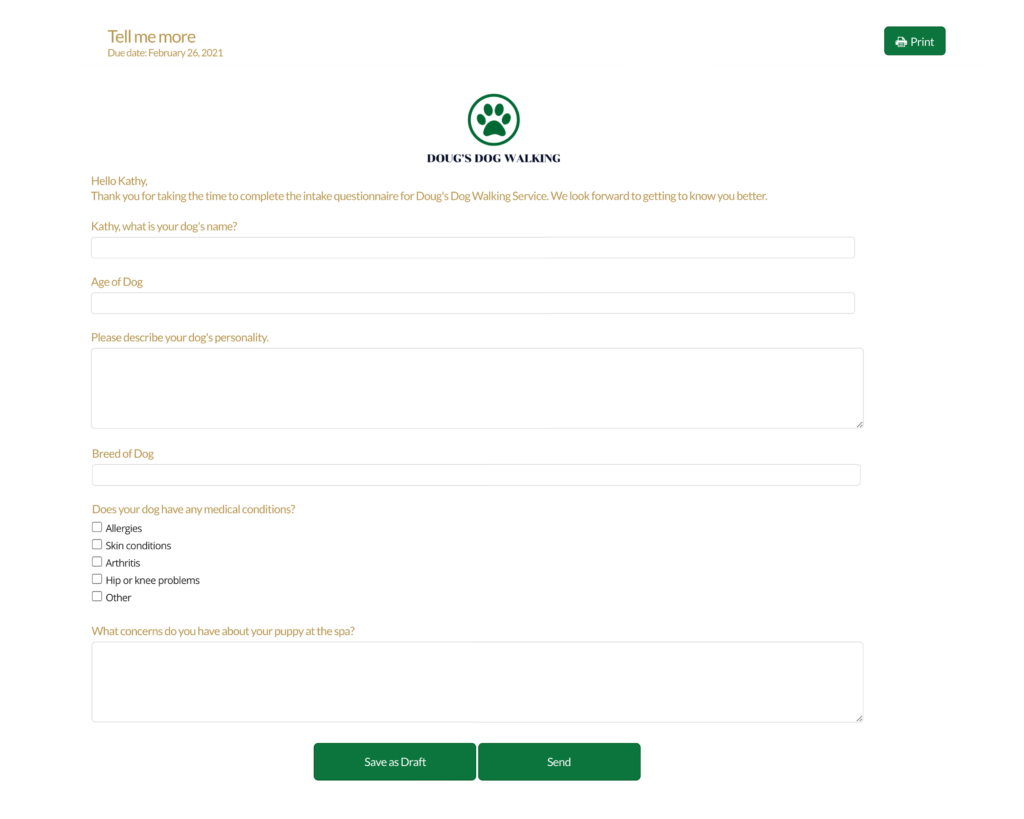 Dog Walker
What is your dog's name
What breed of dog do you have?
Does your dog have any medical conditions?
How does your dog behave around other dogs?
Does your dog have any dislikes?
Pro tip: If you plan on gifting your clients, be sure to include a question to surprise and delight them later. For example, when is your dog's birthday? Or what are your favorite colors/coffee/beverage/etc.?
How to use the results of your client Questionnaire?
It's not enough to just collect the information on a Questionnaire. Here's how you can put the information to use. Use the results of your Questionnaire to build your client relationship and save you time.
Skip a basic onboarding call or meeting and use the Questionnaire instead.
Get a head start or plan ahead in your client's project or service according to their answers.
Use your new knowledge of your client to predict their preferences.
Keep your client's Questionnaire answers in their project folder or CRM, like 17hats, for easy access.
Did you know that 17hats helps you do more than just collect Questionnaire answers? Our automation platform has the ability to 'map' your client's answers to their Project and Contact details. For example, if you ask your client for their dog's three favorite activities, 17hats can automatically create a Note in the Project page. For even more custom questions, you can create Custom Fields to map into your Project page or Contact details.
At this point in your client experience you may already have the basics, but by including the short Questionnaire into your process just made your life easier and the client experience better. Questionnaires are an efficient way to get information from your clients and can help improve your client experience. Additionally, using questionnaires with 17hats allows you to automate your business. 17hats offers Questionnaire templates that make it easy for you to create well-thought-out questions. Try using Questionnaires in your business today!