In honor of Mother's Day this year, we are celebrating a few of the many hardworking mompreneurs that we know! Being an entrepreneur can certainly be difficult just on its own, but juggling business ownership with motherhood is especially impressive. These moms deserve recognition and we're delighted to share their stories!
Katie Pitts
Sleep Wise Consulting
(Pediatric & Adult Sleep Consulting)
My son (and his sleepless nights) were the reason Sleep Wise Consulting was born. Once I found a solution to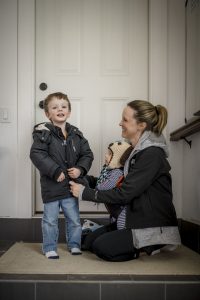 his sleep problems, I knew that I had to share this solution with other moms who were struggling as well. I had no idea what it took to become an entrepreneur but I knew that I was motivated and I could do it. I also knew that I wanted to stay home with my son but I needed something else to keep me driven. It was the best of both worlds!
When you work from home while raising your children, it's very easy to lose yourself and feel constant guilt. Previously, when I was working, I felt like I should be with my children. When I was with my children, I felt like I should've been working. Attending the business makeover experience with 17hats was the best thing that could have happened. I now have set work times and set family times, along with times for me. I'm strict with this schedule and have felt much more balanced as a person.
One year into the business, I saw and succeeded with my 100th client. I had (and still do have) a 100% success rate and truly felt that I was changing lives. I still felt like I had a lot to learn about working from home and being an entrepreneur but I knew that I had invested in something great and was seeing the fruits of my labor pay off!
Set goals that include your business and your personal life. Set aside business hours and stick with them. If you need to take time to yourself – do it and don't feel guilty about it. Your family needs you to be healthy and balanced. Know what you are doing. Love what you are doing. Believe in what you are doing.
Tracy Brisson
Savannah Custom Weddings & Elopements
(Wedding Officiant & Elopement Planner)
I had always been a "high-achiever" in my work, and a great multi-tasker and was more worried about the mom part, that it would be so hard because I didn't have much experience with babies. It turned out that the mom part seemed easier and the work harder those first few months. Since I work for myself, I did not have conventional "maternity leave" and had to check in a number of times when he was a newborn each day. You read about it … But you don't really see how little our society values new moms until you are in the thick of it.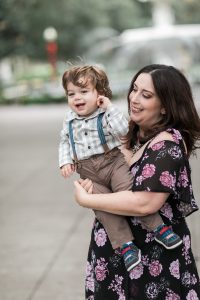 The biggest challenge has been using my time effectively. I cannot always wait for conditions to be perfect to write a ceremony as my son needs mommy when he needs mommy, and my clients still need their ceremonies on time and to reflect their wishes. I have had to create and evolve my systems – software, documents, templates, checklists, and different timelines – to become much more efficient in my writing and client delivery. Obviously, 17hats Workflows have really helped with that!
It took me about ten months [to feel accomplished] to be honest. Hormones and general new mom anxiety lasted with me for a while (no one prepared me for the hormonal drop 4-6 months post-partum!) and then I needed time to get my groove with all my roles.
There is nothing wrong with asking for help, and paying for it if you need it. Adding an assistant and partner officiants have allowed me to take time off to be with my family and be present, while still serving as many clients who want to work with me and my company. It is easy to look at those expenses and get discouraged when I look at my end of year profit and loss, but I remember to be grateful, not only for the personal benefits they reap for me but that I have built a company that can continue to bring so many people joy beyond my own personal capacity.
Baraka J. Truss
Sew Couture Designs, LLC
(Sewing Education & Custom Garment Construction)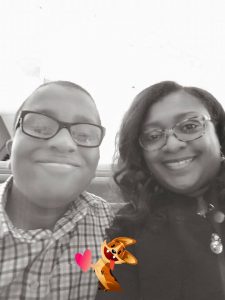 As a mom, there was not a lot of "preparation" time. You know you have to set priorities and family always comes first.
Don't stop pressing your way. If something does not work, don't give up, just try and do it a different way. The moment you no longer get fulfillment is the moment you need to re-assess and regroup.
I felt accomplished when I took my son with me to a fabric store when he was about 8 years old. When I got to the cutting counter the lady asked what was I going to make with the fabric I had selected and before I could answer, my son blurted out, "My mom can make ANYTHING!!! She is an amazing seamstress!!" That is when I knew I had "arrived!!"
Laura Robinson
LAURA ROBINSON PHOTOGRAPHY
(Wedding Photography)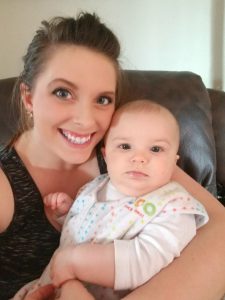 After my husband and I got married in 2015…within 3 months, I was already (somewhat unexpectedly!) pregnant with our first child…I was simultaneously elated and terrified…. because how could I possibly get through a wedding season with a newborn?!
When you become a parent, all ideas of "how things should be" COMPLETELY go out the window. But thankfully, 17hats made the transition into parenthood a little less bumpy and I was able to maintain a higher level of professionalism by using my Workflows, my ENDLESS and plentiful Questionnaires, and of course, the "Scheduled Send" option! (Hurray for no more 3am Questionnaire Emails being sent!) 

"Mom guilt" is totally a real thing. You never really understand that until you see your child holding their arms out, wanting to be held, or snuggled, or wanting to read that story for the 15th time today. That email can wait. Reading the Questionnaire can wait.   

Never, ever feel guilty for taking that extra snuggle. Don't feel enslaved to your business at the expense of your child's needs and desire to spend time with you. "The days are long but the years are short". One other thing that I realized I had to do to maintain my own balance, was that I had to have some "baby free" hours to work on my business each week. I have another mama in my neighborhood who watches my daughter for a few hours a few afternoons per week. It was everything I did not want when I started my business….I mean, let's be honest….I started this business so I could stay home with my children! But it is necessary for me and for our family – to give our baby some social time, to give me dedicated work time, and even to allow us to miss one another! That won't be ideal for all families, but it has been a perfect transition for our family as my business continues to grow.