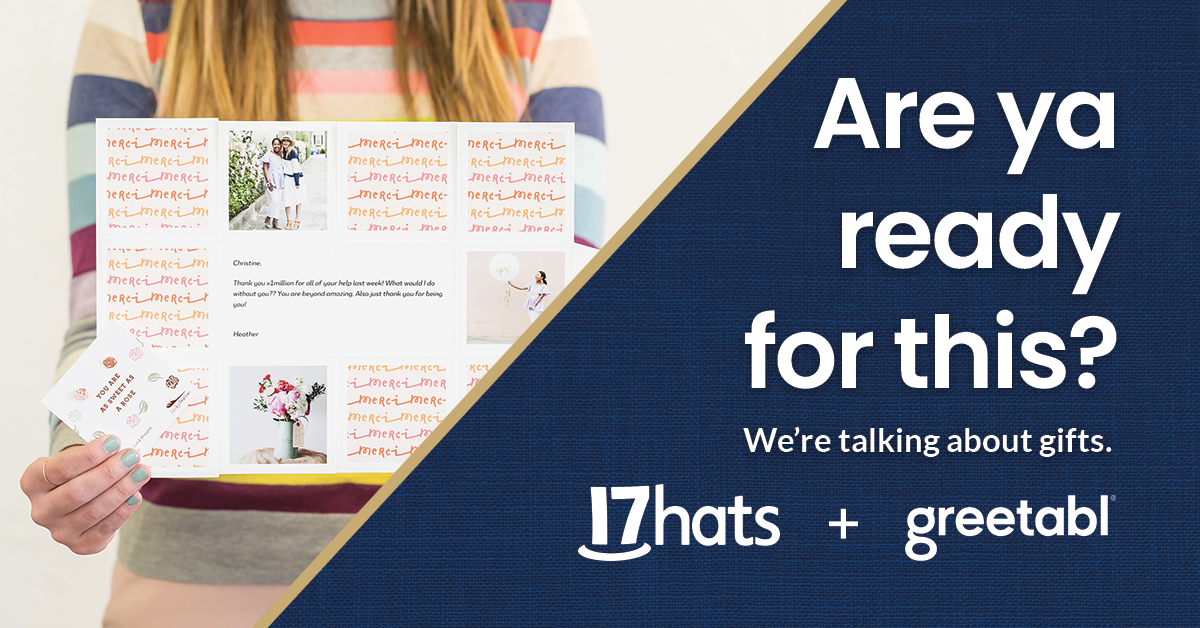 We are obsessed with making people feel special, and we've spent years trying to find the secret ingredient to creating happy customers.
That's exactly the reason why we, 17hats, is partnering with Greetabl. Their passion of gifting will help you tap into your unique abilities and identify customer experience strategies that are doable, scalable, and totally in line with your core values. Over the lifetime of your client relationship, your customers have many different interactions with your brand – each of those influencing how your customers view your business. Every single touchpoint is part of your customers' experience. So how can you give your customers the best experience possible? One important part of the puzzle is surprise and delight.
Why Surprise and Delight?
Why spend time and money investing in something that doesn't directly bring new customers in the door? Or, that doesn't increase the loyalty of current ones?
First, Happy Customers = More Referrals
Asking for referrals is uncomfortable and sometimes unsuccessful. But luckily for your bottom line – happy customers bring new customers in the door! When you focus on creating amazing experiences, people will refer you to their network (without being asked!). Delight your customers and you will win their loyalty for life and turn them into advocates for your brand. There's really nothing more powerful than that!
Second, Happy Customers Come Back Don't miss out on the lowest-hanging-fruit business of all – repeat business. When your clients are happy with their experience with your brand they are more likely to come back. Sounds pretty obvious, right? But maintaining relationships with customers takes work (and that's work your competitors are probably NOT doing). It's important to stay in touch with clients even after the sale is complete. Sometimes another project may not come up for several years, but if you focus on Surprise and Delight you will be top of mind when that next project comes around.
Why Send Client Gifts?
The third stage of the funnel gets badly ignored. Once their working engagement is over, most companies lose touch with their customers within one month. This leaves massive amounts of money on the table, and you don't know how much new business you are missing out on until you change this habit. By losing touch with clients, all the hard work you've done seems transactional and not personal. Gifting is an unexpected superpower that can take your customer relationships to the next level! Gifts are the perfect way to celebrate clients and make them feel appreciated. It's a natural and frictionless way to stay in touch after the sale. It's a physical, keepable and memorable display of thoughtfulness.
Plus, Greetabl gifts are super Instagramable! By sending a gift to your clients, you are giving them a reason to talk about you to their friends – both online and offline. Sending a gift can be a way to get free marketing and more referrals.
Let's Get Started!
One of the easiest mistakes to make when it comes to customer experience? Simply forgetting to do the same thing for every client, every time. It's a lot easier to come up with a brilliant plan to celebrate customer birthdays than it is to remember to consistently execute it. By combining the automated power of 17hats with the personalization of Greetabl gifts, you can create a Surprise and Delight strategy that actually works.
Surprise and Delight is more than a gift, it's a mentality. Getting to know your client's needs, thoughts and pains will help you relate to them in a meaningful way. Without a personal touch, many customer experience efforts feel stale, clinical, or even a little strange. To 'wow' your customers, focus on creating moments that feel unique and customized to them, without sacrificing scalability and consistency.
Learn more about Greetabl and 17hats by watching our webinar replays on 17hats University.