Typing the same email over and over again?! No thank you. As a small business owner, save time in your day by utilizing 17hats email templates. This business 'must-have' will save you hours a month, and will ensure that you are effectively communicating with your clients.
Email templates can range in a variety of topics – check out Jennifer Mills Blumes blog, Seven Email Templates Every Business Owner Needs. And, 17hats allows you to create as many templates as needed for your business. Creating a template is super easy, and today I have five things you need to know about 17hats email templates.
1. Different Email Template Types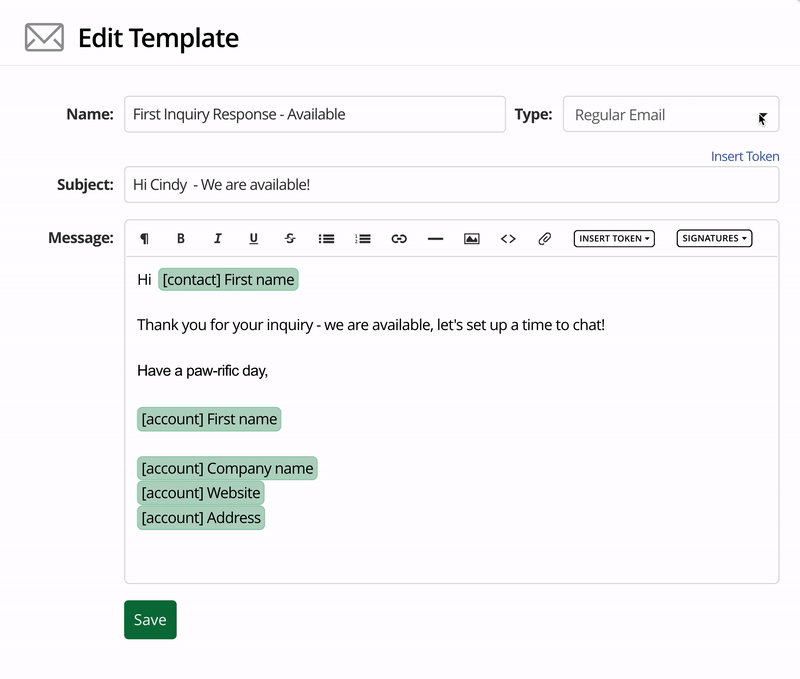 In 17hats you can select from a variety of email types as each one does something a little different.
Regular Email – A regular email is just that. It is a content-only email. This type of email is great for reminders, confirmations, and all general information.
Document Type – If you plan to send a 17hats document; Questionnaire, Quote, Contract or Invoice, then you need to select this appropriate email type. This is because 17hats automatically adds a button link to the bottom of the email for you. By clicking the button, you client will be able to access the document.
These emails are important when creating Workflows to send your 17hats Documents and sending the document manually through the project page.
Lead Auto Reponder – This type of email can be added to your lead capture form as your auto response when a lead submits your form.

Scheduling Emails – These emails can be added to 17hats Online Scheduling when setting up the service. These emails include the service confirmation email, cancellation email, waiting for approval email, one day reminder email, and day of reminder email.
Client Portal Email – While this type is not really used, we did add it because there is a default client portal template for you to use which has conditional logic.
With your client's portal you can opt for higher security by turning the password on. Or, leave it as it with the password turned off. Either way, the email will pick up on your setting and make sure the correct information is set. You will notice at the bottom of the email template there is [IF]: Password Protected. This means if the client portal password is turned on, we will automatically include the line "Your secure Password to access the portal is [password token].
With this conditional logic, you don't have to remember which clients have a password on and which does not.
2. Emojis in Email Templates
While I don't recommend going emoji crazy, adding a little spark of fun can be a good thing. You can add emojis into your templates as well as subject lines. Just head over to Emojipedia and copy and paste directly into your template.
Use your best judgement and have fun! 😀
3. Tokens in Emails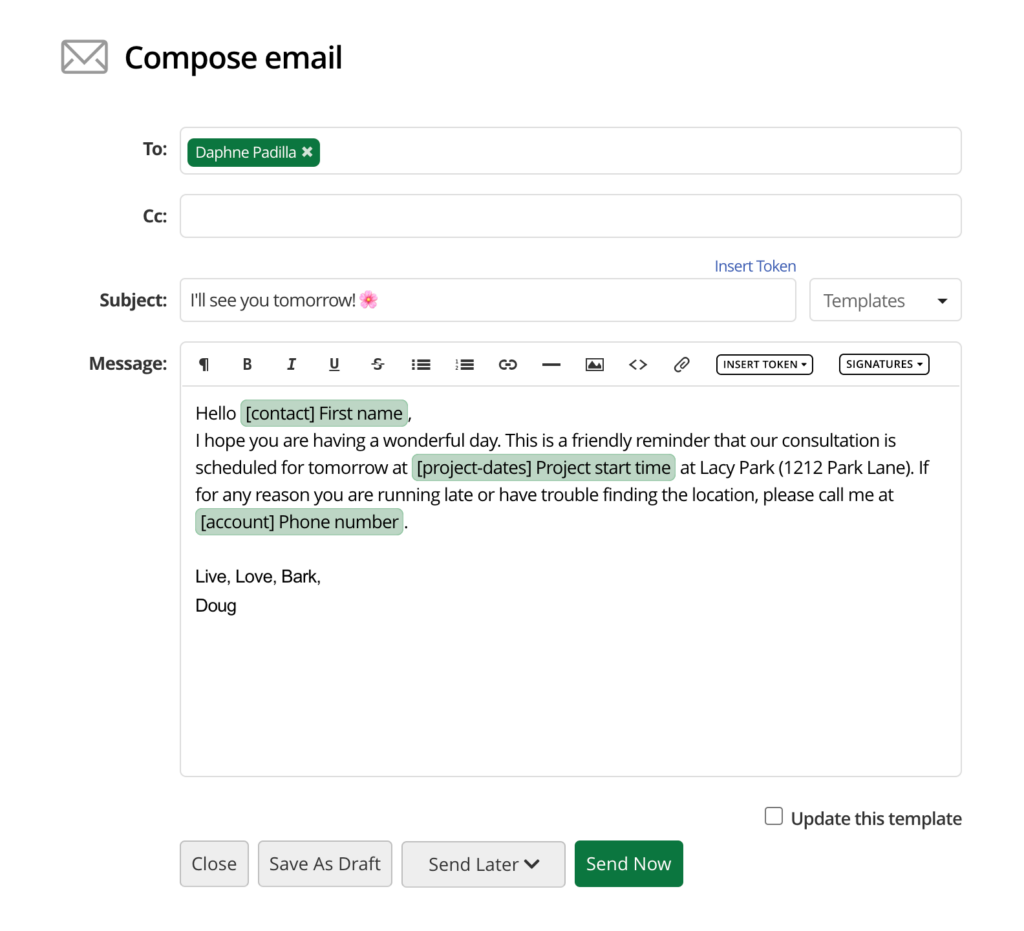 While tokens can be scary at first, they become a lifesaver once you learn to use them. Tokens allow you to personalize yet automate. Think of tokens like placeholders. Once the template is assigned to a project the placeholder (Token) will be replaced with data found inside the project and contact details.
While there are tokens for just about everything and you can even create your own custom one by using custom fields, I recommend easing in by using tokens for your clients first name, project date and start time. Then as you become more comfortable you can add more.
4. Two Email Signatures
Email signatures, another must when creating your email template. I suggest creating two email signatures. The first a formal signature that can be added when you are sending a quote or your first response to a new lead.
The second, I recommend being more personable. Use a saying or something fun and on brand to add personalization and humanization to your business.
Also, I recommend using Tokens in your email signatures for your phone number, business name, and address. Therefore, if you ever change it all you need to do is change the information in your account settings.
Once your email signatures are created, you can easily add them to your email templates.
5. Build on the Go
While you could hop into your account settings at any time and build all your email templates, you could also just build as you go. If you find yourself retyping the same email template over and over again, opt to 'save as template' before sending. Then your written email will automatically be saved in 17hats. From your account settings, you will be able to make adjustments to the template to spruce it up if needed. Or, you can make tweak to the template right before sending to the next client.