To be a small business owner in today's fast-paced digital world, you need to know a little bit about everything in business. A good chunk of it goes into understanding your marketing strategy. While marketing has many facets, an excellent place to start is with your website and tracking your customers on Google Analytics.
Solopreneurs who have a website should have an active Google Analytics account. Here are few tips on how to get started.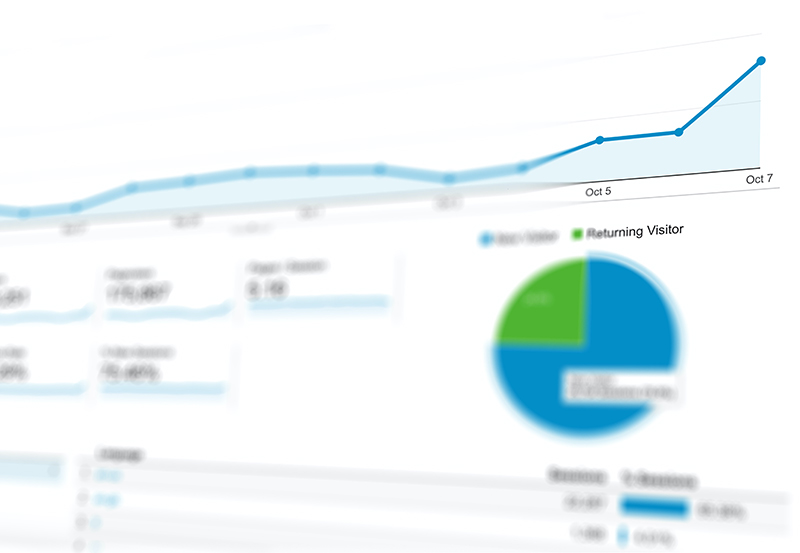 What is Google Analytics?
Google Analytics collects data from people who visit your website for free. It's the most common form of tracking and collecting data for websites. Google Analytics gives you insights into who your customers are. It's a powerful tool with many great metrics, but don't worry about its depth. You can use it in simple ways to better your business overall.
What metrics should you know as a beginner?
Here are a few key monthly metrics that you should consider tracking for your website. Keep in mind that the best data to track will vary depending on the call-to-action on your website. Also, your ideal results will vary depending on your business goals.
Users vs. New Users – A user is a person who has visited your website. If the person has visited your website for the very first time, they count as a 'new user,' and if they visited your website more than once, they count as a 'returning user.' This metric is a great way to compare new users to existing users on your website.
Bounce Rate – Bounce rate is single-page sessions divided by all sessions or the percentage of all sessions on your site in which users viewed only a single page and triggered only a single request to the Analytics server. Bounce Rate is a good indicator to easily see if users are engaging with your content.
Average Session Duration – Average session duration' is a metric that measures the average length of sessions on your website. Google Analytics begins counting a session from the moment a user lands on your site and continues counting until the session ends. Along with your Bounce Rate, this metric will tell you how long a person stays on your website.
Geographic Locations (cities) – Google can track where a website visitor is accessing your website from. If you're a local company looking for local business, then watch for geographical trends to help you make marketing decisions.
Mobile Device Usage – This metric is a way for you to see how many website visitors are using a mobile device to access your website. You can compare how people visit your website on their phones and adjust your website based on your findings.
Behavior > Site Content/Pages – Use this Google Analytics view to see the most popular pages or blog articles on your website. You can also see how long users visit each page. 
Acquisition > For all traffic channels – You can see the source of where your website visitors are coming from in this section. The main categories of website traffic you'll see here are direct, organic search, referral, and social. The importance of this metric is that you can quickly gauge if particular marketing efforts are working.
Conversions > Setting Goals – Even setting up the simplest of goals for your website metrics can be helpful. Common goals to choose from include; time on the website, landing page, how many pages a user visits. One easy way to setting start goals is to set a 'duration' goal to greater than two minutes. This is a good starting metric to begin tracking for your website.
Pro Tip #1: Create a Google Search Console account to keep your website up to date in Google's database by indexing new and changed pages. This Search Console account will also give you more insight into how your website is being found on Google.
It's quality, not quantity that matters 
It's common for small businesses not to have a lot of website traffic, especially if you are not currently marketing your services or products to bring leads to your website. However, you can still judge if website visitors are engaging with your content and taking action to contact you.
It's important not to get caught in all the numbers. With so many different metrics to analyze, Google Analytics can be overwhelming. If you want to get deeper into the numbers, I would suggest hiring an SEO or marketing agency to monitor and track them with you.
Pro Tip #2: For those that want a deeper understanding of their website analytics, use an application like HotJar or CrazyEgg. These software products track and record website users' movement and clicks on your website. It will help give you more insights into how to make better improvements. 
What do I do with my results?
Before diving into the results, I recommend setting up and tracking website activity for at least 30 days. Once you have some solid data to work with, you can make small changes to your website, marketing strategy, or content strategy to continue to improve your business.
Here are a few examples of what you may need to change.
The problem: Your Goal Conversions are really low for form submissions. You notice that people are not filling out your Lead Capture Form on your website. You ask eight questions that you think are important.
The solution: After not seeing the results you want, simplify your Lead Capture Form to less than five questions. Watch the results for 30 days to see if you start receiving an increase in leads.
The problem: Your bounce rate is above 75% for your entire website. A high bounce rate indicates that people are not interested or engaging with your website. Why not? Could it be that you need to update your images, or maybe your hero image is so large that people do not know they should scroll down?
The solution: Consider your website design. Make sure it's mobile-friendly and user-friendly enough that visitors know where they should be clicking. For example, you may try to move your call-to-action to the top of your home page so that it's more engaging with your target audience.
Every business is different, and each industry has its own challenges when it comes to website design. As a solopreneur, you should be aware of these specific issues and be willing to try different approaches and make adjustments to improve your website. Marketing starts with knowing and understanding your potential customers and how you create or adjust your business identity to stand out to them. Google Analytics helps you make educated decisions for your website marketing strategy.
For more small business marketing advice read our 17hats Ambassador's blog here.