Marketing! Ekk! While we hear the word every day, marketing can be a scary black box for a solopreneur. And, marketing funnels, even more intimidating. One might think you need a marketing background to pull it off, or with social media moving to video, one needs to be an extrovert. But the reality is that you need to be neither.
Marketing is actually fairly simple once you understand the basic idea is spreading the word about your offering. It's your unique way of communicating and engaging with potential leads.
Marketing can be broken down into phases known as the marketing funnel. Understanding the marketing funnel is a great way to demystify marketing and bring you greater success.
Basic Talk: What's a Marketing Funnel?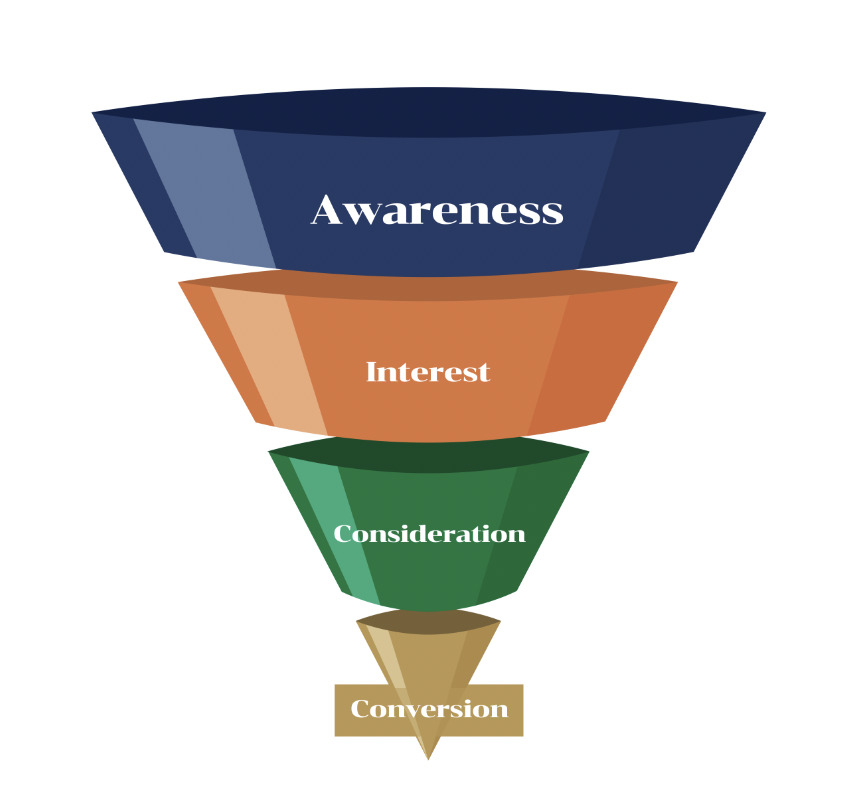 A simple marketing funnel is made up of four phases: Awareness, Interest, Consideration, and Conversion. Anyone who becomes aware of your service drops into the funnel and, at that point is considered a lead. Some leads will continue through each phase, while most will not. As the leads progress down the funnel, getting closer and closer to conversion (booking with you), the lead gets warmer and warmer.
Once your lead books with you (converts), the hot lead becomes a client. Pretty simple, right?
The Four Phases of Marketing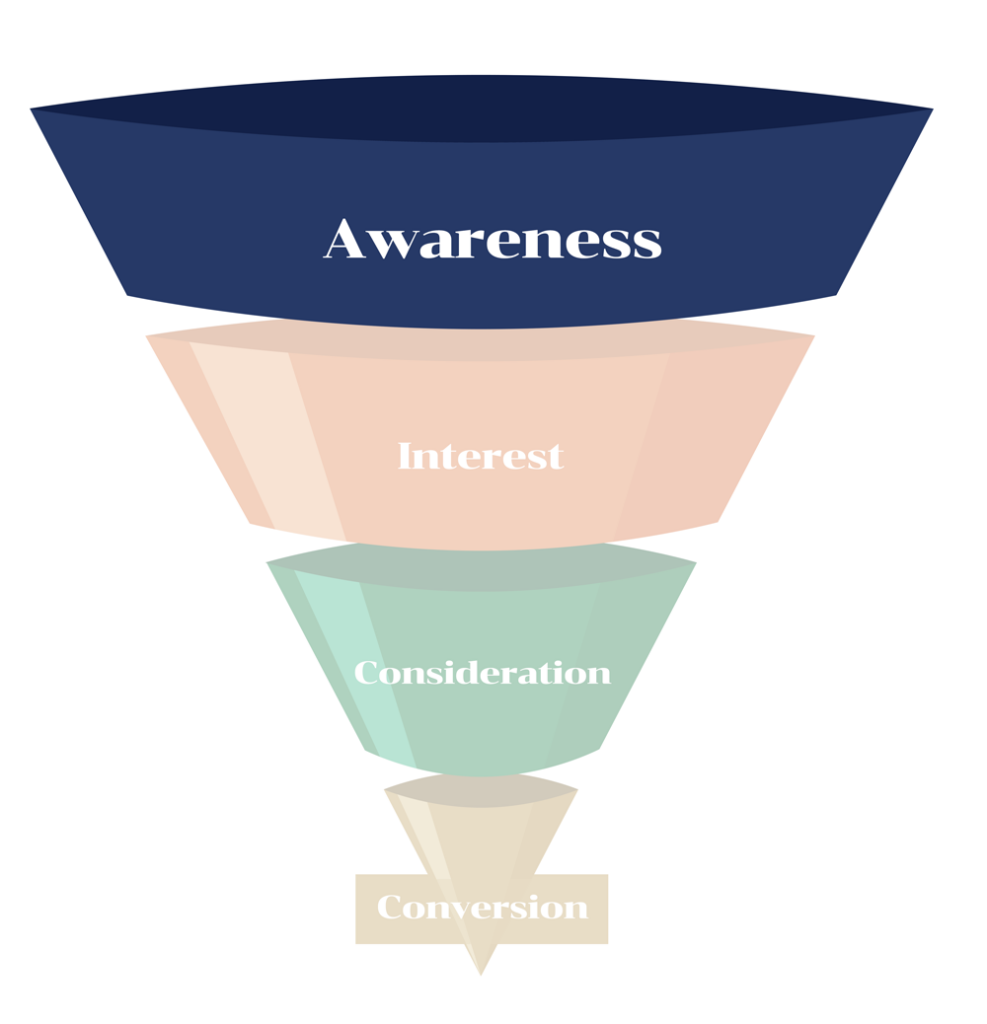 Top of Funnel: Awareness
Awareness is where your leads will enter the funnel and where most leads live. They are simply aware of your business. They have found out about you and know your business exists.
Use marketing strategies to create awareness for potential leads to find you. Think about this analogy. If you're driving down a road and a beautiful fox is hanging out on the side of the road are you likely to spot him? Maybe. He's kinda small and blends in with all the other stuff on the side of the road. (Just to be clear, the fox is your business and the driver of the car is the lead navigating your industry on the web).
But, if the fox crosses your path will you notice the fox?! 100% you will.

To create awareness you have to do exactly that. You have to cross your potential leads path.

First, you need to know where your potential leads are spending their time online and/or in-person.
Are they on Facebook, Instagram, Tik Tok?
What stores are they shopping at?
What are they searching the internet for?
Who are they hanging out with?
Once you find out where leads spend their time, then you can create a marketing plan that will cross their path. Here are some common strategies:
Hashtags on Instagram – While hashtags can be fun and silly, the right hashtag can put you in front of new people. Be sure to do your hashtag research to up your marketing efforts.

Paid Ads on Social Media Platforms – You don't need a large ad budget to create awareness on social media platforms, but you definitely want to do your research and know what you are doing.

Referrals – Gift the leader of a social group (or influencer) a free or discounted service. If they love you, they will continue to refer new business to you.

Search Engine Optimization (SEO) – Write blogs about the topics your potential leads are researching. You can use free online SEO tools like Semrush or Moz to help you create optimized content for your blog.

Talk and Engage – You are your biggest billboard for your business. It's ok to talk about yourself. Have a quick five second answer ready when someone asks you what you do. Be proud of the business that you're building and state it proudly.

"I own my own business. I'm a ___insert profession here___. " By adding that you own your own business, you add credibility to yourself.

Sponsorships – There are many organizations that look for sponsorships from local businesses. Sponsor a little league team or a special event. Be strategic by choosing events or organizations that will create the most awareness to your target audience.

Help/Volunteer – Donate your time or discounted services to a local event in your city. It's not only doing a good deed, but the awareness that can come from just a few hours of your time can be impactful to your business. It's a great way to get people talking about you.

Network – You don't have to be an extrovert to network. Most communities have a chamber of commerce or other networking groups that can create a lot of awareness and new business. For virtual networking, you could be a guest on someone's podcast.
The reality is that your business will not grow if people are not aware that you exist. You need to bring as many people into the marketing funnel as possible. The hard truth is that awareness is very organic so it's hard to tell how many people are aware of your business. And, just because they are aware of you once, doesn't mean that they will remember you later. You must stay top-of-mind with all your potential customers.
Middle of Funnel – Interest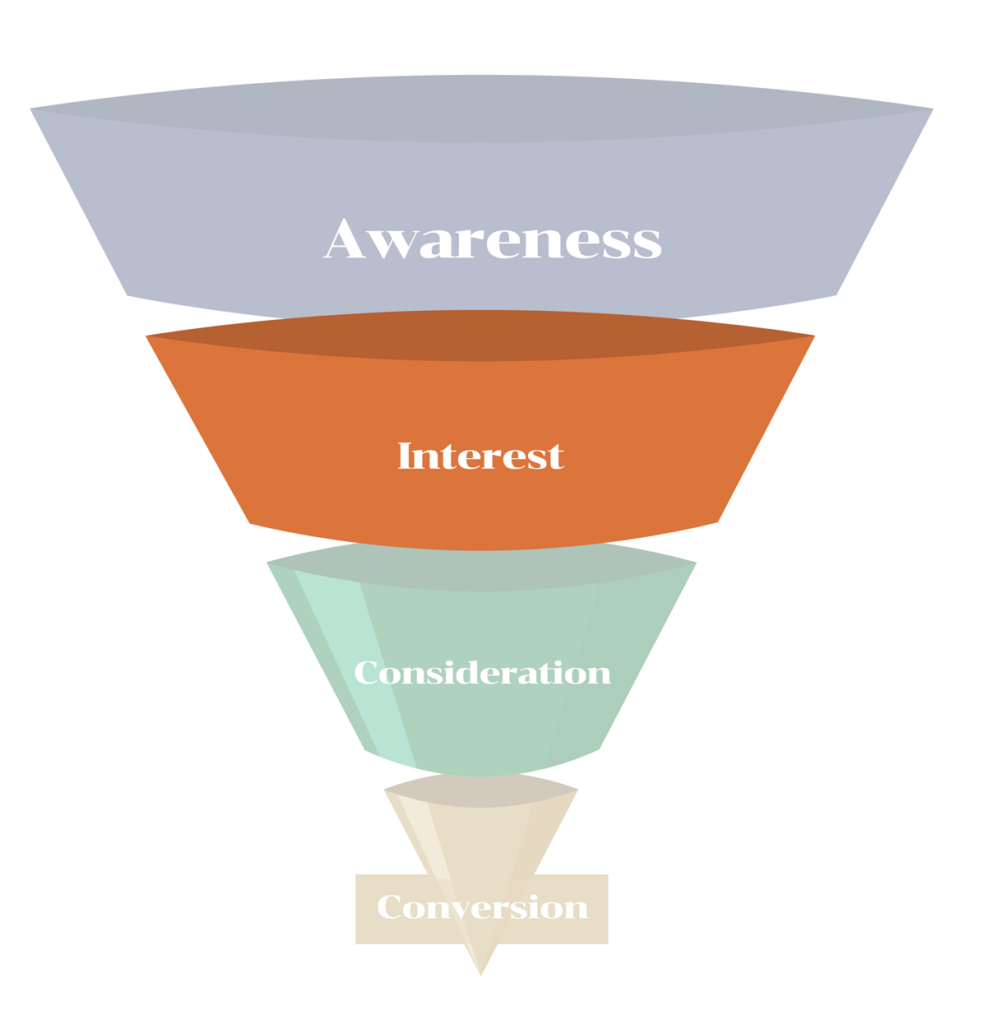 After awareness, interest is the next phase of the marketing funnel. When you catch their eye, potential leads become interested in you and they begin to 'click around'.
When they first enter the interest phase, they check out your webpage and go to your social media feed. At the bottom of the interest phase, they start checking out blog posts and comparing you to others in your industry.
As a business owner, you have to figure out what content will pull them deeper into your marketing funnel interest phase. This is where your message and content become important. How are you standing out from the crowd? Why should they dig deeper into your business?
The interest phase of the marketing funnel is the most difficult because your potential lead is morphing into a warmer lead and you don't want them to lose interest. You can get people to take a deeper look at your products and services by:
Being unique with your offering. Represent yourself and your brand in a unique way to hold the interest of your lead. Don't blend into the crowd by looking like everyone else.

Create better content. Everyone in your industry can throw pretty images on social media (and, that's important, don't get me wrong). But, it's important to create a strategy behind your content as well.

One strategy is by helping potential leads choose the best in the industry, a.k.a. Your business. Remember the movie Miracle on 34th Street? The 'Cole's Santa' became legendary because he was helping people … even by sending them to other stores. Helping people make a decision is a great way to get them to engage with you. Try writing a simple blog – 5 Things to Look For In A _profession here__. Separate yourself from hobbyists to make your business look more professional and shine.

Email Marketing – Sending regular emails is a great way to keep your business top-of-mind. You can send emails with company updates, new deals, or new blog posts. While it does take some time, it is a great way to stay connected and add credibility to your brand.

Video Content – Videos are hot right now – YouTube, Reels, TikTok. Depending on where your ideal client spends their time, pulling them deeper in the funnel with fun or educational videos will help them transition to your next phase in the marketing funnel.

Freebies – Being a resource for a new lead is a great way to establish yourself as the expert in your field. Freebies can be used as a lead generation tool to move your cold leads to the consideration phase of the marketing funnel. Be sure free content, workbooks, or guides have quality and actionable advice that your potential customer can use without booking you first. You'll create trust with your brand.
Overall, interest is building a relationship with your lead. A wise man who has been in the solopreneur industry said to me once … "If they like you, they will book with you. It is that simple." While at first, my 24 year-old self shrugged that off, because as a young business owner I thought the key to success was over-complication (said in a super sarcastic voice). I quickly discovered that no wiser words have ever been spoken. It was true, your product isn't the reason leads book with you, they book with you because of YOU!
Middle of Funnel – Consideration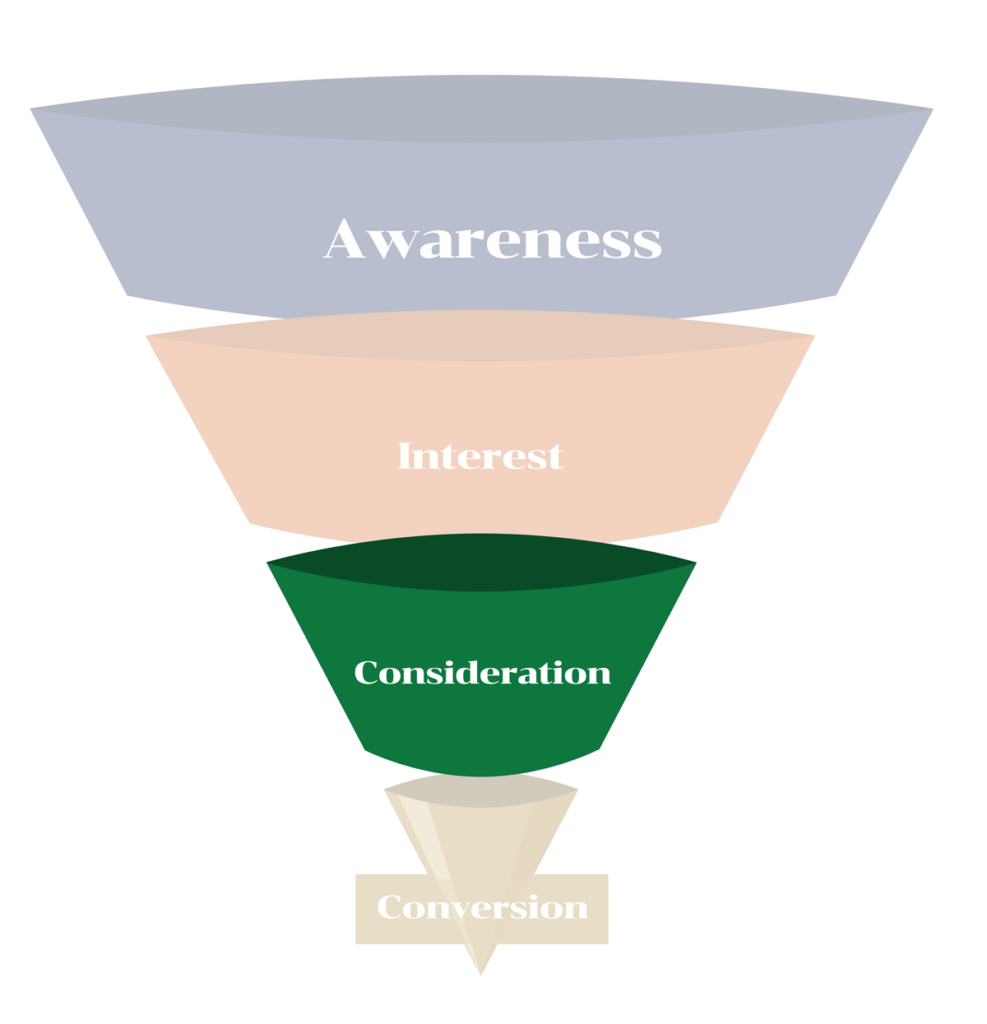 Consideration begins as your lead becomes hotter, and they start to dive even deeper into your services. Simply put, your leads want to know you are legit. Can you provide everything they need, and does your personality (brand) 'click' with theirs?
Sure they will ask about price and probably a lot of other questions, but it really comes down to how they feel about you moving forward. If they like you and trust you, it really doesn't matter the price, they will book you.
Consideration typically includes a series of back-and-forth, one-to-one communication as you kick-off when they inquire about your service. It may happen through a social media message, phone call, in person, or contact form.
Because we live in an instant gratification world AND they may be contacting other businesses, it is imperative that you respond to your new lead inquiry as fast as possible. Research shows that you have a higher chance of booking the client if you are the first to respond with a personalized message.This means your out-of-office emails and auto response email that states, "I'll get back to you in 24 hours" is actually hurting you. Which is why it's important to have a business system like 17hats.
During this communication series, it is important to continue to build trust and connection. You can do this by:
Understanding your clients – Take the time to learn about your clients needs and desires. You can do this through a questionnaire, phone call, or consult. Your lead wants to know that you are hearing them.

Eliminating their fears. – Your leads will enter the relationship with fear and anxiety. Understanding and talking through how your services will handle their anxiety will strengthen their trust in you and help them see you as the expert in the field.

Objections. – Everyone comes in with their own objections. This is their self-doubt. Whether it's a mom who feels guilty for spending money on herself, or someone who is not a confident decision maker, you want to make sure you address the objections. Ideally, you'll want to understand the objections people have before the consideration phase. You can speak to that on your webpage, social media, and emails.

Pricing – While putting the average price is common on your website and upon first inquiry, it is important to go over pricing with your leads. Being transparent with pricing is a way of showing maturity as a business and puts your lead at ease.
This process of back-and-forth communication is what starts your lead experience, the first phase of your client experience. And, it sets the tone for your whole relationship. You want to take the time and map out your experience and your process. Keep in mind the goal is creating trust and building a relationship so that they will book with you.
Bottom of Funnel – Conversion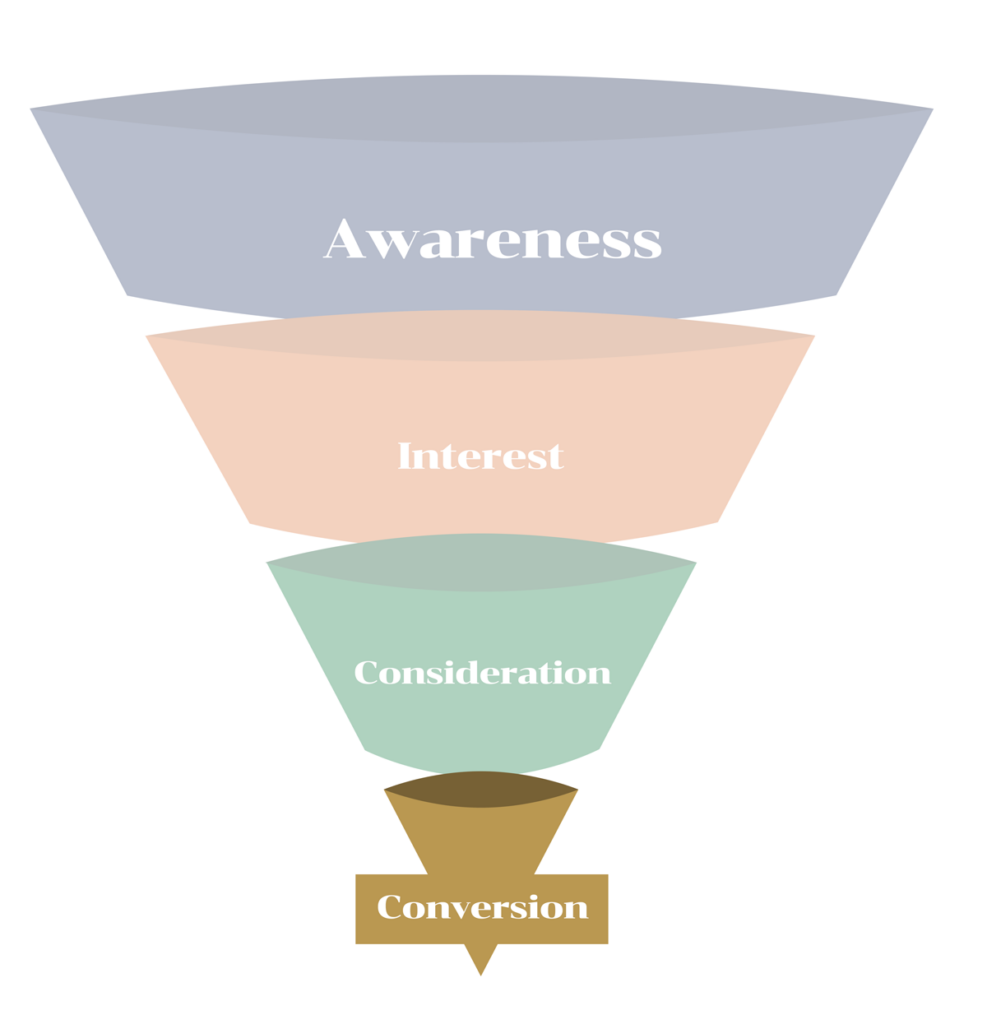 Consideration begins as your lead becomes hotter, and they The final stage of your marketing funnel is conversion. While it is that last phase of the funnel it is the second phase of your client experience, the booking experience.
This phase starts with you presenting the tools for booking. Whether that is a Quote, Contract, and Invoice, or an online scheduling tool, once they complete that step, they are no longer a lead and are considered a booked client.
Like any process, the simpler and smoother you make it, the more clients you will book. Here are a few tips to quick and easy bookings:
Paper or Plastic? Plastic for the win. Ditch the cash and checks. If you only accept checks or cash, your lead may be more worried about pricing. By allowing credit card payments, the decision becomes much easier. It's even proven you can make more money by accepting payments online.

Be quick. Once they show a desire to book with you, don't delay. As humans we naturally second guess ourselves, so don't give them time to do so. Also, they are super excited about booking you, so capitalize on that excitement.

Ease the strain with payment plans. If you have a high dollar service, create a payment plan that works for you. By requiring a smaller amount to book, you are removing obstacles to becoming your client.

Don't overwhelm them. The goal of this phase is to get a new booking, not to decide everything in one day. If you overwhelm them with options and choices, they simply will not book. Simplify your choices and present only what is needed for booking. Once they book with you, you can always upsell later.
A Strategic System
The marketing funnel is a blueprint for a strategic system to move a lead from awareness to conversion.
When a solopreneur starts their business, most are just winging it and picking up low hanging leads through their own personal connections, such as friends and family. However, when moving towards the second phase of growth, business owners need to start casting a wider net to pull in new leads. At this point it is important to understand the marketing funnel and plan how to move your lead through it.
Having a strategic plan, creates trust and establishes a connection with new clients, which are two ingredients for a successful client relationship.