Let's be honest, email (while a great means of communication) can suck all the time right out of your day. Especially emails like … "Can you resend the contact? Sorry, but I can't find it." Or "When is my next payment due? I can't find the invoice." Grrrrrr. While we love helping our clients, those little annoyances can interrupt a productive day. 
Because your time is the most important asset you have as a small business owner, it is oh-so important to remove as many little annoyances as possible.
17hats Client Portal was designed to do just that. Your leads and clients can access Project and Event Details and their contact information all while accessing and completing important documents such as quotes, contracts, invoices, and questionnaires. With all the information being automatically added to their portal, you can eliminate the distracting emails with just one link.
And with our latest release, we have made our Client Portal even more robust. Now you will be able to hide individual projects in the client's portal. By disabling the Project from Client Portal, all Events, Project Details, and Documents associated with that specific Project will be removed. By removing old Projects from your client's portal, you will be able to help your clients stay focused on the most current project. 
Get Started with Existing Contacts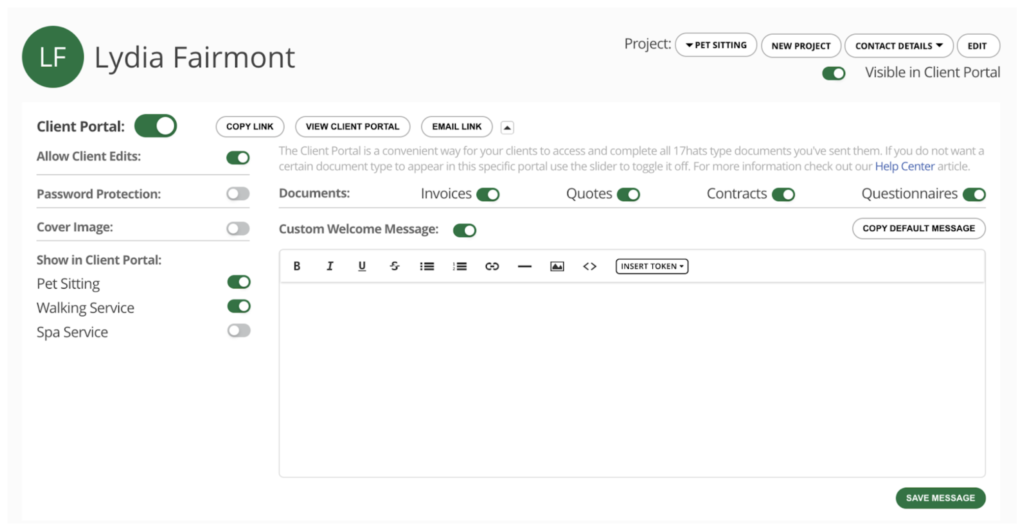 Getting started using this feature is easy. Go to the Contact's Project page and open the Client Portal Settings.
On the bottom left you will be able to toggle off the different Projects you would like to be hidden in the Client Portal. The good news is that if you ever want to make the Project visible again, all you would need to do is toggle it back on.

A second way of hiding the Project is to simply use the toggle in the top right corner of the Project Page. That toggle will hide that specific Project in the Client Portal. This toggle is a great at-a-glance reference for whether the Project is, or is not, showing in Client Portal.
Filtering Projects with New Projects
Since doing as you go is the optimum way to save time, we made sure that you were able to easily toggle off, or hide, your Project upon creation.
When using our Full Contact Form, you will be able to hide the new Project by toggling off the "Visible in Client Portal" setting.

Why Hide Projects from Client Portal?
While 17hats members that work with corporate clients love that all Projects show in Client Portal, those of you with more boutique businesses and repeat clients want to keep the portal simple and clean, by only showing necessary information. Others want to remove past Projects so repeat clients can't compare the price jump from one invoice to the other.
We are excited to launch another feature to help you better your business and build reliable systems to ensure your success. We hope you enjoy our newest addition.