As a small business owner, you often hear about the importance of branding.
"Branding is what sets you apart."
"Branding is how you attract your ideal clients."
"Branding needs to be a major focus of your business."
Message received – branding is vital.
So, being the go-getter you are, you've created a brand identity that highlights your unique value proposition, and you've spent hours refining your brand visuals and brand voice. You are rightfully proud of the results.
Now that you've done that hard work, you need to amplify your brand voice. If you're running your business using 17hats (and you should be), you'll be glad to know that 17hats affords you many ways to let your branding shine. Here are five examples:
1. Add a Logo to your 17hats Account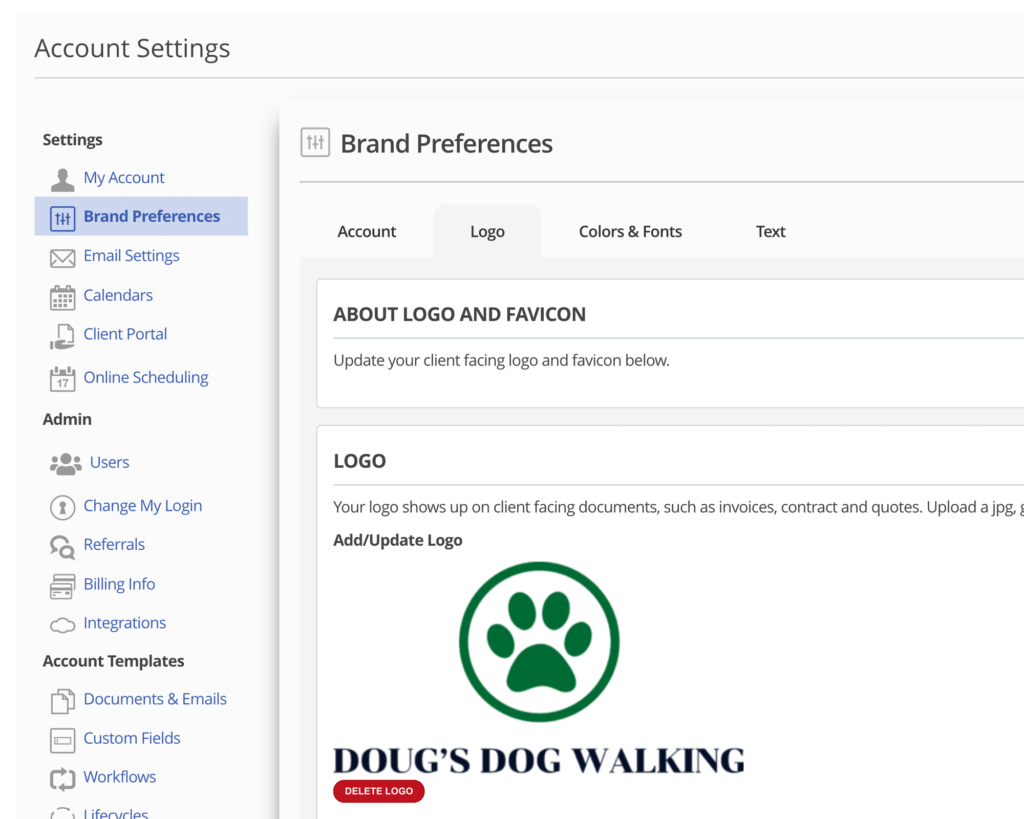 Adding a logo to your 17hats Account will help keep your branding consistent on your client-facing documents created inside 17hats.
17hats will automatically include your logo on the top of any document (Quote, Contract, Invoice, or Questionnaire) you send to your clients from 17hats. Your logo will also appear on your Online Scheduling pages and at the top of your Lead Capture Form Auto-Response emails.
Pro Tip:
Crop in on your logo as closely as possible to remove any extra white space around the design. Cropping in lets your logo appear as large as possible on the documents you send. Read more about adding your logo to 17hats here.
Bonus Pro Tip:
A favicon is the small icon that appears on the left side of browser tabs. For example, in the example below, you can see a 17hats favicon and a custom favicon for Doug's Dog Walking. When you add your logo to 17hats, it's a great idea to add a favicon as well. A branded favicon makes it easier for your clients to find the tab with your document, especially when they have multiple pages open at once.



Add your logo (and favicon) by navigating to Account Settings (via the gear icon in the top right corner), select Brand Preferences, and choose the Logo tab.
2. Use a Subdomain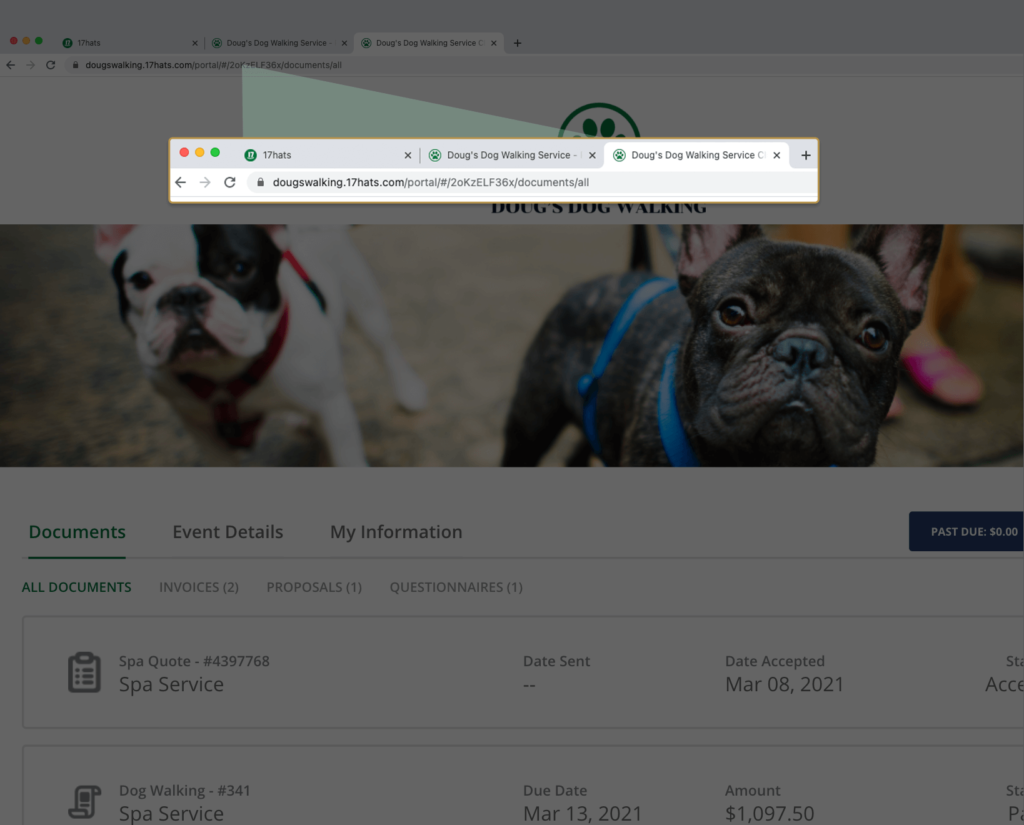 First of all, what is a subdomain in 17hats? It's simple: A subdomain is the part of the URL listed first (before 17hats.com) when your clients view their documents or Client Portal.
Branding this subdomain adds a bit of customization to the links you send to your clients. In the example to the right, you can see the subdomain highlighted.
Updating your subdomain to your business name (or something similar) is a great way to let your clients know that these documents are coming from you.
Pro Tip:
Only update your subdomain once! Subdomains are part of the links for your documents, including Quotes, Contracts, Invoices, and Questionnaires. The same applies to the links for your Client Portal and Online Scheduling. If you change your subdomain a second time, all your existing links will be broken.

Customize your subdomain by navigating to Account Settings (via the gear icon in the top right corner), select Brand Preferences, and scroll down to "Subdomain" on the Account tab.
3. Use your Brand Voice in Email Templates
A lot of business is handled by email these days. And the way we write to our clients should be an extension of our brand!
Let's say you run a dog walking business, and your brand is a little quirky. In that case, you may want to end your emails with "Live, Love, Bark!" If that kind of closing has your fur standing on end (see what I did there?), perhaps a more traditional "Kind regards" is better suited to your brand voice.
You may also want to vary your tone depending on the formality of the email in question. When you're sending Contracts or essential documents, a more formal tone may be in order. That doesn't mean you have to lose all of your brand's personality – just turn to some of the more serious words in your "copy bank."
Pro Tip:
Create a copy bank – a list of words and phrases that exemplify your brand voice. Keeping this go-to language handy makes it easy to create email templates when the need arises.
Bonus Pro Tip:
Create two email signatures to use in 17hats: one that is more formal (to use when sending Contracts and Invoices) and one that is less formal (to use when sending general correspondence or Questionnaires).
Even more important than making sure your brand voice comes through loud and clear is ensuring that your email is delivered!
Including images or large attachments in your email can increase the likelihood of your email getting screened by a spam filter. It's better to send large attachments as links, and limit the amount of media you are embedding in, or attaching to, an email.
4. Customize your Fonts and Font Colors
*Level Two and Level Three Only
You spent hours picking the perfect shade of blue to use in your branding. It's not too close to navy, with just a hint of a purple undertone, and a slight dustiness to the hue. No other shade of blue does your branding justice. So you need to be able to use your perfect shade of blue inside 17hats as well.
No problem. 17hats Founding Members – and those with a Level Two or Level Three membership – can pinpoint their brand colors. You can use your same HEX color codes from your website for your 17hats background and accent colors, your accent fonts, and your document buttons. Similar customization is available on your Lead Capture Forms, so when you embed a 17hats Lead Capture Form on your website, it will be seamless with your branding.
Just as important as your brand colors? The fonts you choose.
You want to ensure that the fonts you use reinforce your brand voice.
Is a more formal and traditional Baskerville the right fit for you? Or perhaps a modern and streamlined Lato?
17hats lets you customize your accent fonts, and the fonts used on your document buttons. While the main fonts used for 17hats documents and emails have been selected for you (to ensure legibility and email deliverability – no emails styled in Papyrus, please!), customizing your accent fonts adds a splash of branding to your Quotes, Contracts, Invoices, and Questionnaires.

Customize your fonts and font colors by navigating to Account Settings (via the gear icon in the top right corner), select Brand Preferences, and select the Colors & Fonts tab.
5. Customize your Document and Button Text
*Level Two and Level Three Only
Little changes can make a world of difference in how your clients perceive your brand voice. And one of the first places a potential client will interact with you is on the 17hats Lead Capture Form you have embedded in your website.
Customizing the button on your Lead Capture Form gives your clients a feel for working with you, right away!
Perhaps you want to keep it traditional and have the button say "Submit." Or maybe you want to be a bit more casual, and have the button read "Let's get in touch!" It's your call. In 17hats, even buttons are an opportunity for branding.
You can also customize what you call a document in 17hats. Would you rather use the word "Proposal" instead of "Quote?" Easy peasy – you can make that adjustment.
Pro Tip:
Make sure that the words you are using for buttons are clear in their meaning. For example, using the phrase "Cowabunga!" to mean submit on a Lead Capture Form is probably not the best idea.
Parting thought
You have worked hard to craft the perfect brand image for your company. Use the simple steps above to showcase your brand as you build your business using 17hats!