Let's face it: running a business is hard.
After all, we start our companies because we have a passion for providing an incredible experience for our clients – not because we love paperwork. I know personally that I started my wedding planning business to help my clients create cherished memories with their loved ones – not because I loved the administrative work that comes with being an entrepreneur.
As we start to book more clients, the "back-end" busywork of business monopolizes our time. We spend less time on the service we're passionate about, and more time on:

Making task lists
Replying to emails
Chasing down payments and contracts
Managing calendars
Thinking about everything that needs to get done
As our businesses grow, chaos creeps in. We never feel like we can catch up, and we start to drop the ball with our clients. Simply put, there are never enough hours in the day.
Looking back
Again, let me use my own story as an example:
I began to lose control in my business about three years in. My company was growing, but I didn't have any systems in place to help with the increased number of clients that I was booking. I realized that I needed help, or else I would burn out. I needed to get organized and create a rock-solid foundation for my business.
I checked out all my options:
Pen and paper
Hiring an employee
Data software like Excel or Google Sheets
Task managers (like Asana or Trello)
CRM (Customer Relationship Manager) for small businesses (17hats and its competitors would fall in this category)
For starters, I recognized that pen and paper wasn't going to cut it for my growing business. I wasn't in a position to hire another "me" to help run the business. And I didn't want to manage a bunch of different apps, each with their own idiosyncrasies to remember.
So that left a CRM. I needed something to help manage my client experience, from the first moment that a new lead filled out a Lead Capture Form until the service was delivered and I asked my happy client for a review!
After I tried every other option out there, I decided that 17hats was right for me. Here's why:
17hats is for the business owner who wants to get things done. Their features integrate seamlessly with each other and with third-party apps like Apple Calendar, Google Calendar, Zoom, and even Greetabl. With 17hats, all my client info was at my fingertips, all the time – even on the go. (Thanks, mobile app.) And the platform's emphasis on automation soon saw recurring tasks happening automatically, which let me reclaim time lost to inefficiency.
Four features stood out to me that made 17hats the obvious choice:
The 17hats Dashboard
For me, the key to getting organized was having everything in one place. I needed to be able to sit down first thing in the morning, open a single window, and with a glance know everything that I needed to accomplish.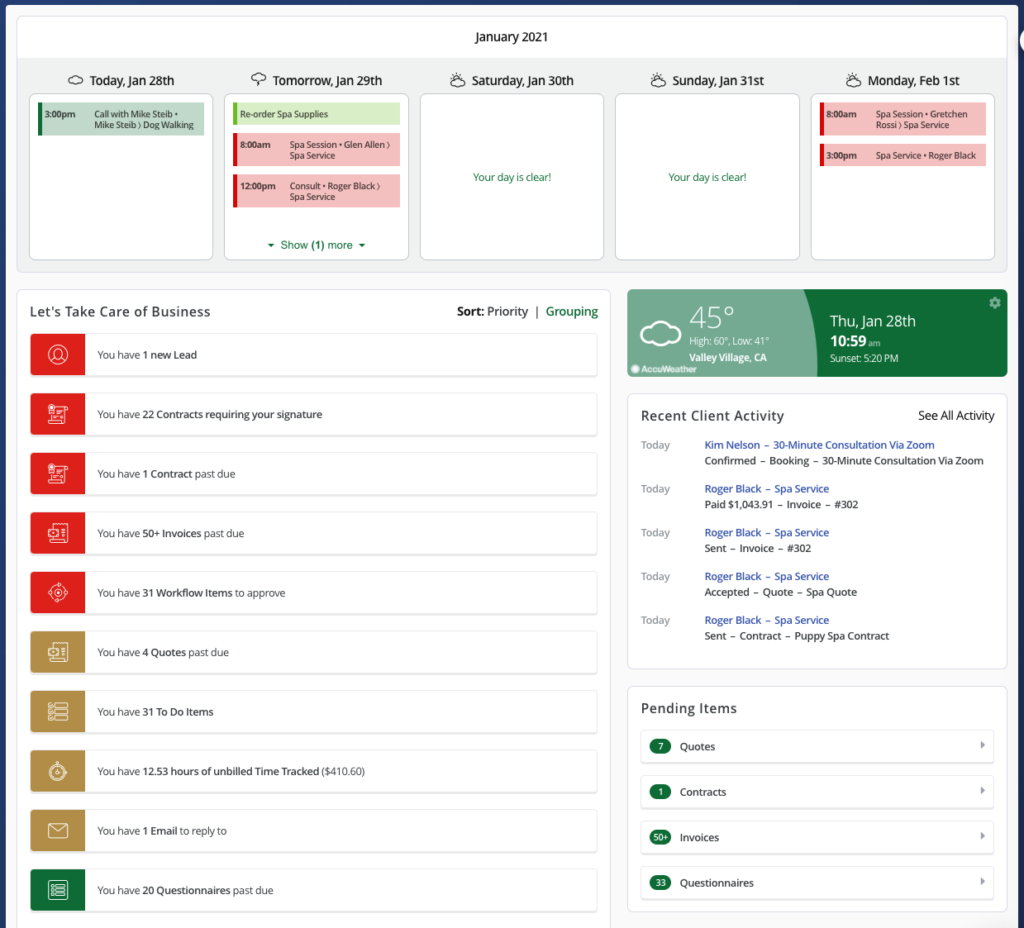 Enter the 17hats Dashboard. This view shows me:
A 5-Day Quick Look – so I can see everything that I have coming up in the next five days
Recent Client Activity – telling me what tasks my clients have completed
All my Pending Documents
Emails that I need to respond to from my Contacts
To-Do items that I need to complete
Workflow items that I need to complete
Past due Invoices and Contracts
Pending Questionnaires
New leads who need responses
The 17hats Dashboard is the most comprehensive dashboard that I found in any CRM. You can indeed run your business from just one view. The value of seeing everything that I needed to accomplish in one place was tremendous:
No more dropping the ball with clients
No more losing track of past due invoices
No more feeling overwhelmed at what I had to accomplish
The 17hats Dashboard allowed me to feel much more in control of my business. It helped me take the tasks that were cluttering up my brain and put them into action.
17hats Workflows
What is a Workflow? It's just a repeatable set of steps that you take to deliver your services: your to-dos, your emails, your process.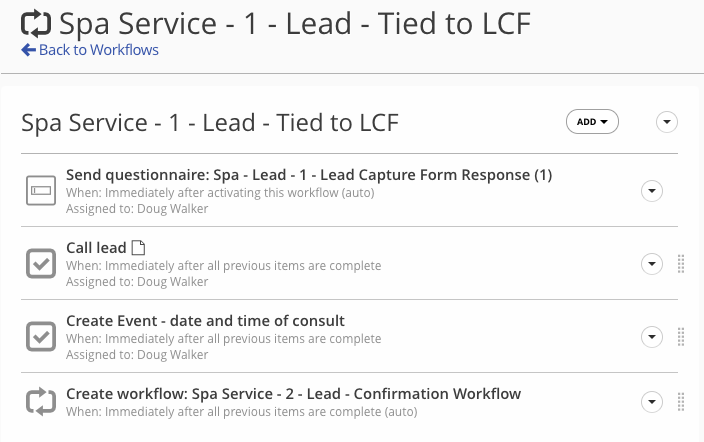 More importantly, Workflows are the key to getting back hours in your day. When I reached the breaking point that I described above, I had never taken the time to automate anything within my business. I wasn't creating Email Templates or writing down the steps that I needed to take with my clients. In short, I was wasting my own time.
When I discovered Workflows in 17hats, I knew that they represented a game-changer. The list of Actions that 17hats can automatically complete on my behalf is enormous! Actions include:
Sending Emails, Contracts, Questionnaires, Invoices, and Quotes
Archiving a Project
Confirming a booking
Changing calendars
Opening new Project Notes
Opening Phone Logs
Sending a gift to a client
Starting another Workflow
I can also create To-Dos, pause Workflows, and have a To-Do trigger another action upon completion.
The Workflows in 17hats were the most robust of any of the CRMs that I considered. And those Workflows can be automatically applied to my clients!
Imagine this:
A new lead inquires with me via my website. But, I am out of the office and away from my computer. Before Workflows, I wouldn't have responded immediately, and would potentially have lost out on the business.

I have my Workflows set up to reply automatically to any new lead who inquires with me through my website. So the Workflow:


Sends a personalized response, using first name(s) and referring specifically to the service that this Lead is interested in booking.

Automatically adds the lead to 17hats and sends me an alert.

Automatically sends a Questionnaire to this new lead, to continue the conversation.

Puts a To-Do on my Calendar (and Dashboard), prompting me to give the new lead a call.


Without Workflows, none of that would have happened automatically.
When your business runs smoothly while you are away from your desk, imagine the possibilities!
Custom Fields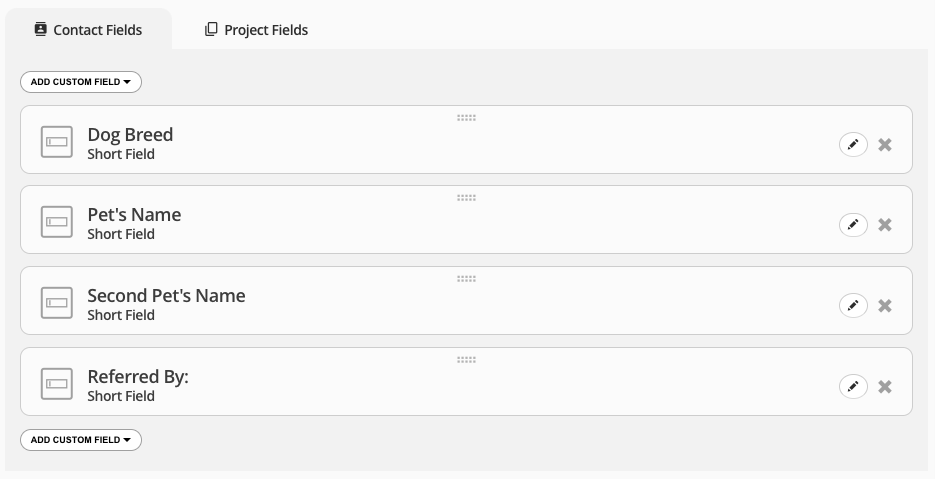 One of the most tedious parts of running a business is dealing with the endless emails. Emails with leads, clients, vendors – it can be a never-ending hamster wheel.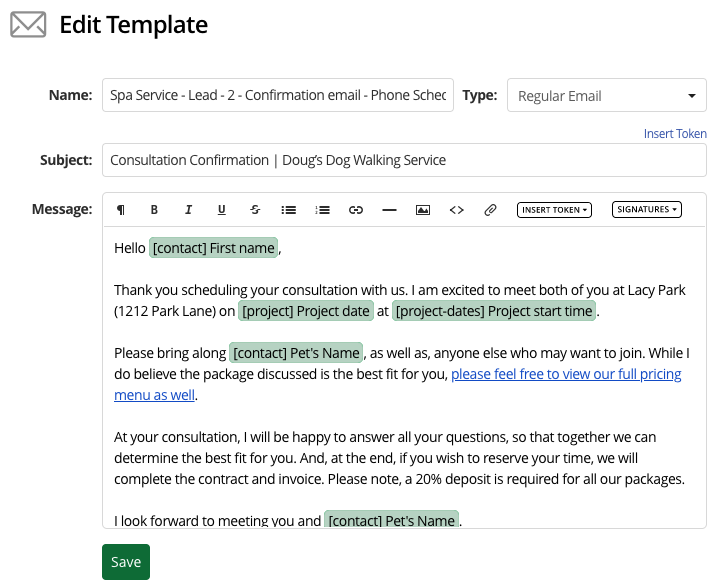 When I started using Email Templates in Workflows to automate my lead and client communication, I realized that my emails still needed to feel personalized. Otherwise, my client experience wasn't going to be stellar.
17hats allows me to insert information into emails automatically, using fields tied to my contacts and projects. But even better, I can create my own Custom Fields and insert that information into emails as well!
What is the information you need to reference for every client? Imagine being able to insert a pet's name or a birthday – or a website? All automatically. You'll be able to send emails that are totally customized to your clients. The level of service you deliver just skyrocketed!
If/Then Questions in Questionnaires
One of my goals as a business owner was to make it as easy as possible for my clients to work with me.
We all have information that we need to collect from our clients to provide our services. But I don't want to ask my clients questions that they don't need to answer because that isn't an ideal experience for my clients.
I collect a lot of information via Questionnaires – a feature I have always loved in 17hats. But when 17hats released If/Then Questions in Questionnaires, I knew this feature had the potential to polish my client experience.
17hats allows me to ask follow-up questions in my questionnaires! For example, if I ask a client a Yes/No question in a questionnaire, 17hats will show different follow-up questions depending on whether my client selects "yes" or "no." This feature makes me look incredibly professional to my clients – they only see the questions that pertain to them!
You can read more about this new feature here!
Best by test: 17hats
As you can see, 17hats is designed to help you get things done in your business by eliminating busywork and automating your processes. To my view, it's the best platform for running a small business, hands down. And that's all before you get to the free business education, supportive community, and rock star support!
Do you want to see 17hats in action? Sign up for a free Demo.