Question: What's your tech stack?
You very likely thought: "What? What's a tech stack???"
The concept of a "tech stack" seems foreign to most small business owners, but you have one whether you realize it or not! Simply put, your "tech stack" is the combination of software applications you need to run your service-driven business.
As your small business grows, your tech stack can get very complicated. Often, you may have a patchwork quilt of different technologies. If that's the case, and you piecemealed your tech stack together without much thought, it may be holding you back. At some point, you need to simplify and streamline in order to grow.
The good news? Simply moving your business to 17hats accomplishes so much. With just the features integrated within 17hats, you no longer need Calendly for scheduling, Trello for to-dos, and DocuSign for contracts. And that's to name just a few.
Still, depending on your business, there's a good chance you'll need other, industry-specific software apps to service your clients. Well, the good news continues, because so many key third-party apps integrate seamlessly with 17hats!
Let's walk through some go-to 17hats integrations, and see how you can simplify your life.
Helpful, every day of the week
In the small business world, timing is everything. You always need more time, which means you're likely to overbook and cause yourself unnecessary stress.
That's why it's so important to stay on top of your calendars. 17hats is here to help, with handy calendar integrations.
Google Calendar is the easiest way to go. (Google Calendar is reliable, widely used, and the easiest to integrate with.) 17hats offers a two-way sync for Google Calendar, which means if you make changes to your calendar in 17hats, it will be reflected in your Google Calendar. Plus, if you make changes to your Google Calendar, it will be reflected in your 17hats brand. This two-way sync ensures that both apps reflect the latest changes – so you stay up to date.
If you have selected Apple Calendar (formerly iCal) to be your calendar preference, you can create a one-way sync, which is all that Apple allows for. With a one-way sync, you can make changes in your 17hats account and those changes will be reflected in your Apple devices. This is great for those who just want to see the next event on their Apple Watch or iPhone, but will manage their calendars from inside 17hats.
So you'll know, there is a way to have a two-way sync with Apple Calendar, but it's much more complex, and it requires you to have a Google Account. (Basically, Google will act as the go-between and keep everything up to date.)
Stay in sync with two-way Email Sync
Email can be a drag. Filtering through hundreds of emails is overwhelming – and a waste of time, to boot. 17hats solves that by providing two-way sync with email. Oh, and to toot our own horn just a bit here … we are the ONLY platform that provides this feature.
You can connect 17hats to any email you have! You'll connect your outgoing server, so that all email sent from 17hats goes through your email address. You'll connect your incoming server too, so that email you receive from anyone already inside the 17hats system flows into your account as well.

How does it work? We provide what is called email monitoring. The technology is always scanning your inbox, looking for email addresses already in your account. When it finds one, we alert you on the Dashboard, and we place that email in the Contact's Project for you.

Why is this important? For a number of reasons, but mainly because communication is key to your client experience. There is nothing worse than speaking with a client and hearing the words, "I emailed you about that." Usually you missed that email because your inbox is just too overwhelming! Now, with 17hats, it doesn't have to be. Just open 17hats each morning, and all your important emails will be right where they need to be.
Zoom is the new in person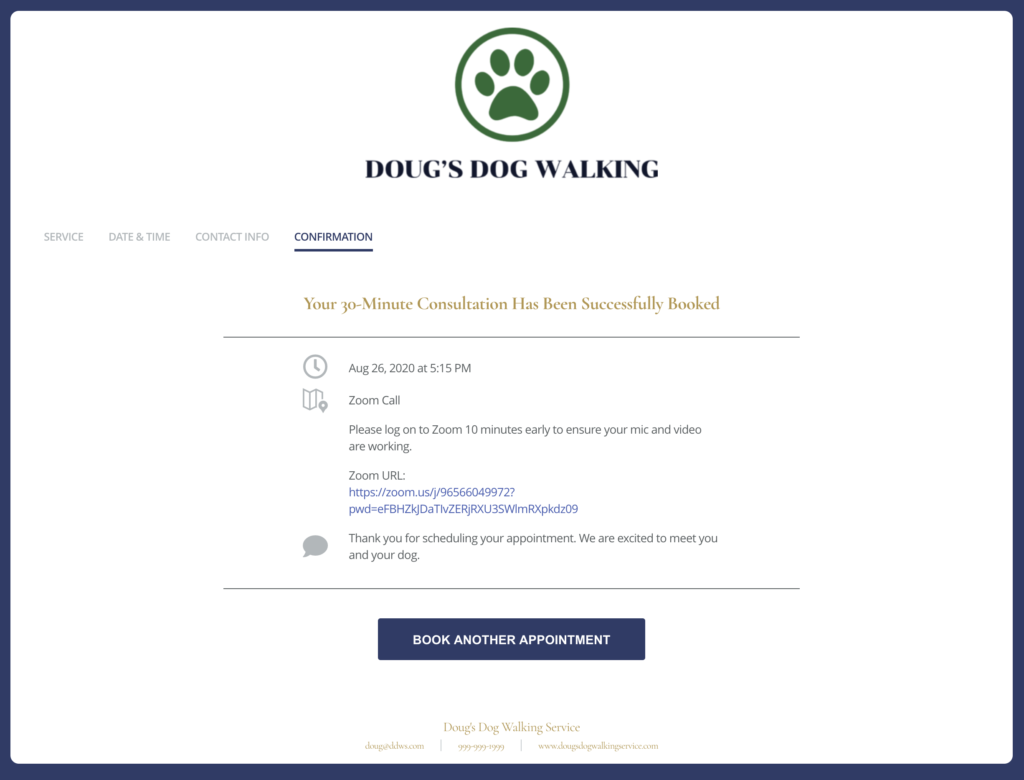 Video conferences are the new normal, so it's essential to integrate your Zoom account with 17hats. With 17hats Online Scheduling, you can select your location as "Zoom," and when a Contact books, the integration will automatically create a unique Zoom meeting URL for your client.

This eliminates the need for you to pop into Zoom to create the meeting, followed by sending your client the URL and a reminder closer to the meeting time. All of that is done for you! Because the integration creates the Zoom meeting automatically, the URL can be added into the confirmation and reminder messages by using the Online Scheduling Location Token.

Like all the integrations, this one saves you hours in your week. You reclaim all that time previously lost to the back-and-forth emails.
Marketing made easy with Greetabl
Many small business owners fret about marketing and referral programs. I understand the stress and apprehension. But with the right system and tech in place, you can up your referral game without EVER lifting a finger.

Referrals are based on surprise and delight. You must give your clients something to talk about. Yes, your work is great and you have outstanding customer service, of course. But – so do other small businesses in your profession. The fact is, you are EXPECTED to have those. So there is delight – because you met, or exceeded expectations – but you lacked surprise.

Surprise! Add Greetabl as a secret weapon to both surprise and delight your clients. When you do both things, you create a rave-worthy experience. More clients will talk about you (to friends and by posting online), which spreads awareness of your business.
What is Greetabl? It's a gifting company. They can send your client (or lead) a small personalized gift, directly to their front door.
How does the integration work? You can send a Greetabl to your Contact directly from the Project page, and/or create a Greetabl template to add to your Workflow. If you do the latter, you can send a Greetabl, automatically, without lifting a finger.
Money matters – Bookkeeping and QuickBooks
Small business owners like money as much as the next person, but few of them enjoy bookkeeping. With 17hats, we can help you eliminate bookkeeping hassles in two ways.
First, if you're running a business without employees (other than yourself), 17hats Bookkeeping module provides an ideal solution. Our Bookkeeping module connects with more than 20,000 financial institutions. Not only that, but it connects with your online bank or credit card, and automatically imports transactions daily. As part of the module, Smart Categorization assesses and categorizes those transactions, then remembers those categories for recurring expenses.
Second, if QuickBooks is more your jam, then you can integrate through 17hats and invoices will be sent up to QuickBooks to ensure that your records stay in sync. Once 17hats and QuickBooks are connected, you can also import existing 17hats invoices into QuickBooks as well. (Note: QuickBooks integration available in the US, Canada, and the United Kingdom.)
The app which connects all others – Zapier
If you are a bit techy and want to expand your reach, Zapier can be a great application to add to your tech stack. Simply put, Zapier is the in-between application that helps you connect other applications to 17hats. As they put it on their site: "Zapier moves info between your web apps automatically, so you can focus on your most important work."
By integrating with Zapier, you will be able to keep your Contacts in sync with other applications such as MailChimp and Constant Contact. You could even automate the creation of a new Google folder, with each new contact added into 17hats.
Photographer-specific integrations
While 17hats has 20,000 members from all over the world in every service-driven business out there, the glory of 17hats spread early on through the photography industry.
With 40% of our members being photographers and with photographers representing by far the largest group on the platform (bookkeepers, you come in a steady second), it's only natural that we have a few integrations tailored specifically to them.
Want to learn more about integrations specifically for photographers? Check back on the blog soon!
Until then, check out our newest integration with N-Vu here.