As a small business owner, your daily schedule can be crazy.
Your phone is ringing. Emails to schedule client meetings are piling up in your inbox. And your to-do list keeps growing. On top of that, you've got children, pets, and … well, you know – life. It's no wonder we don't know if we're coming or going sometimes!

This kind of chaos can play havoc with your schedule. You'll find yourself stretched to the limit, trying to make it all happen without a plan. While that might be working now, it's exhausting to always be juggling like that.
Then, because we've grown accustomed to this seat-of-the-pants approach, we make matters worse when a lead is ready to book a consultation.
A typical email to a lead reads, "What time works best for you?" Then they toss out a random time which you bend your life around, when a different, unconsidered time might have been more convenient for both of you.
Of course, if you did send back an email of "Hey, how about this time instead?" – well, now you just provided a bad experience. It's like telling a waitress to bring you her favorite thing on the menu, and then sending it back, saying you'd rather have the tacos.
Turn Reactive Communication Into Proactive Communication
This type of "reactive communication" is toxic for your business. Letting your lead control the conversation from the start creates the expectation that they will control the experience from there on out. On top of that, you're not setting a professional tone, or creating a trusting relationship with your lead. (Side note: People book with business people they trust. Don't underestimate the power of trust in business.)
By comparison, with "proactive" communication, we can change the client experience for the better. You can guide the conversation with confidence and professionalism by creating an email which does these things:
expresses your appreciation for the opportunity
explains the purpose of the meeting
identifies a location for the meeting
suggests goals for the meeting
offers three to four times to choose among
Take a quick read of the email below:
Hello <insert name of client here>,
I hope this email finds you doing well. Thank you for your interest in <insert your company name here>. I would love to continue the conversation in a 30-minute consultation at <insert location here (e.g., our home office, or via zoom)>.

During our consultation, we will <insert two to three things you will be doing (e.g., we get to know each other better by discussing your ideas and goals, and/or select the package option that best fits your needs)>. If you feel like we are a good fit, we will book a follow-up appointment at the end of this get-to-know-you meeting.
Please schedule your initial consultation by clicking the link to select the date and time which works best for you.
Once you have booked your appointment, I will send you an email confirmation and further information.
I look forward to working with you!
<insert your name here>
Breaking Down The Lead Email Template
Saying that you appreciate the opportunity sets a good tone up front.
It also makes a world of sense to clarify the length and location of the meeting. For one thing, knowing that will help your leads decide on the date and time that's best for them.

Next, add the two to three things that you hope to accomplish. This lets your leads know exactly what to expect. Remember: This may be old hat for you, since you do it every day. For them, it's often a new experience, which can be a little nerve-racking.

After that, state your goal for the meeting. Of course, with a consultation, the goal is to book. (Here's a pro tip when it comes to scheduling consultations: Consider including the deposit amount needed to book in your confirmation email. That way, you don't catch your leads off guard at the consultation.) 
Back to the email template. Next, clearly state the "call to action" – or what leads must do next.
And finally, it's a good idea to communicate what happens after they complete the action step.
The Real Game-Changer: Online Scheduling
Online Scheduling lets your leads see the times you have available to them, at a glance. Now your clients can cross-check their calendars, and confidently select a date and time. This cuts out on the back-and-forth emails that steal your time and tarnish your client experience.
Check out how 17hats Online Scheduling works: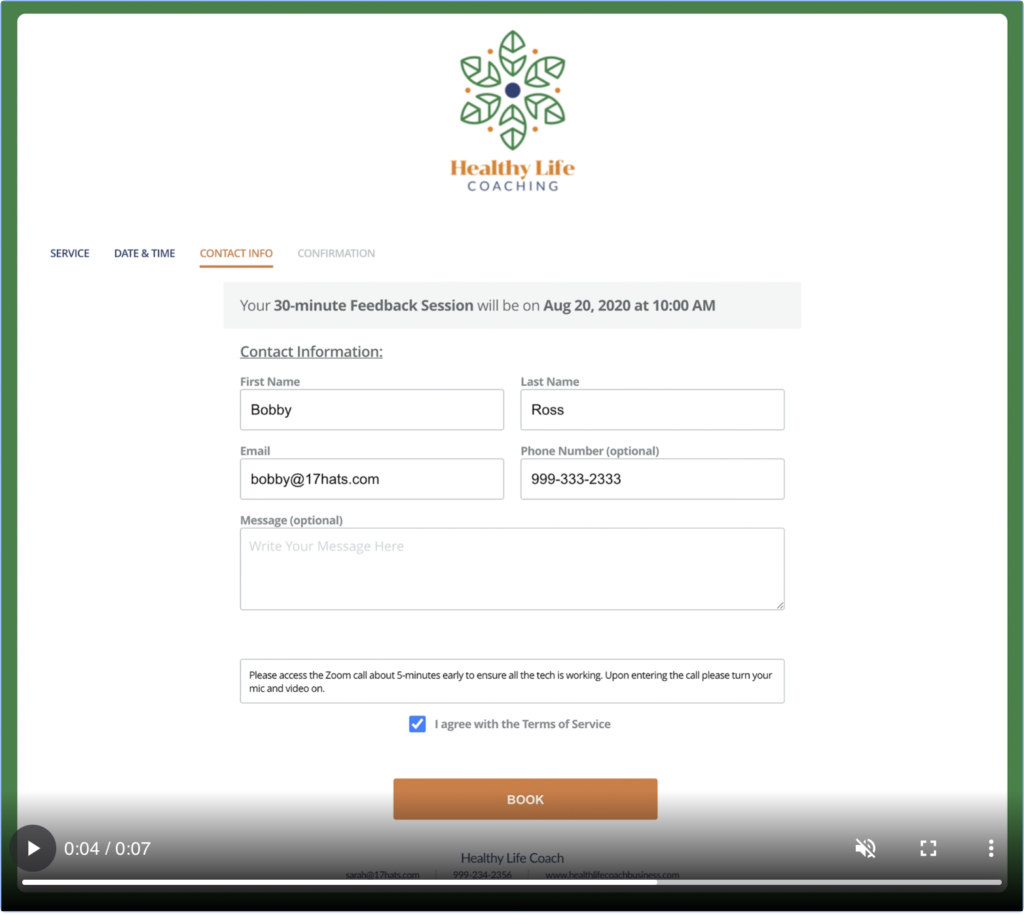 Take it from me: Online Scheduling is magic. It establishes you as professional. It builds trust. It reduces stress. It saves time. It even makes Julienne fries! OK – I made that last one up. But it does simplify the booking process, for you and your clients. And remember … the easier you make it to schedule, the more clients will book!
Not Yet Ready For Online Scheduling?
If you're not quite ready to commit to Online Scheduling, then offer three times for your leads to select from.
Example:
Next week, I have three consultation appointment slots available:
• Tuesday, the 20th – 10-10:30 a.m.
• Wednesday, the 21st – 2:30-3 p.m.
• Friday, the 23rd – 5:30-6 p.m.
Please let me know which one works best for you. If you don't have any of those times available, I do have some flexibility on Thursday afternoon, from 1-6 p.m.
Notice that I used bullets to call out the three available dates and times. I tried to offer a range of morning, afternoon, and evening options.
I also added a longer timeframe, but played down that option by saying "I have some flexibility." In my experience, most clients will try to make your three offered time slots work.