Professional Photographer Magazine: Q&A with Amanda Rae
For years, 17hats has been the go-to business platform for photographers. Recently, the editor of Professional Photographers of America's magazine interviewed Amanda Rae, our chief operating officer, about 17hats and its many upsides for photographers.
What is 17hats?
17hats is an all-in-one, cloud-based platform, designed to help you organize, streamline, and automate your business.
Who should use 17hats?
Anyone with a photography business. Most want to wait until they are "ready," but actually business owners should start using it from the start. That will make it easier to set up your business AND easier to grow your business.
Why should you use 17hats?
Business is hard without help. To-dos, emails, and flipping through apps takes up most of your day (and your mental space), and it shouldn't. By setting up your business the right way through 17hats, you will set yourself up for success. You will grow faster, be less stressed, and have more time to do what you love. Without a platform like ours, your life and business will be in a constant state of chaos, especially when you start growing. There's a reason that thousands of photographers rely on 17hats, and have for years.
What does 17hats actually do?
Think of 17hats as your extra set of arms. We store and organize everything for your business. Contact information. Project information. All-important documents such as your quotes, contracts, invoices, and questionnaires. Even communications, like emails and a phone log.
17hats is the ONLY platform that allows for 2-way sync with email. That's a fancy way of saying that all your emails from your leads and clients will automatically populate in your contact's project.

Also: Creating your email and document templates in 17hats allows you to correspond with your clients quickly, with just a click of a button. With 17hats, your clients can complete all documents online: invoices paid, questionnaires answered, quotes accepted, and contracts signed!
You can create a to-do list per project, and assign dates to each task to ensure that you don't miss a thing.
Then there's Online Scheduling, of course. 17hats allows your clients to schedule appointments without interrupting you. And our new Zoom integration automatically creates a Zoom link for each meeting.
All in all, 17hats helps you manage your whole client experience, from the time your client contacts you (via a 17hats lead capture form), through the time you say "Thank you" and "Goodbye." We provide the organization and automation you need for success. And by "success," I mean a business that doesn't take up all your time and make you pull your hair out!
What do people love the most about 17hats?
Gosh. That's a hard one. For some, it's the automation, since it frees up so much time and energy. Others love the ease of our quote, contact, and invoice features.

But it's not just the features. Our members constantly say that, with 17hats, they feel more in control of their business. They have better work/life balance. They are growing, because they actually have free time to devote to marketing.
There's another reason that our members swear by 17hats, and that's our business education. We don't just supply a platform, and then walk away. We're known for free webinars, challenges, and step-by-step tutorials. This free education covers not just getting the most out of the 17hats platform, but also nuts-and-bolts lessons in running a business.
Our members form a tight-knit, supportive community, too. Everyone helps each other.
In the end, I think so many photographers love 17hats because it's the real deal.
How does someone get started?
Super simple. You can sign up for a demo on 17hats.com – or sign up for a free trial.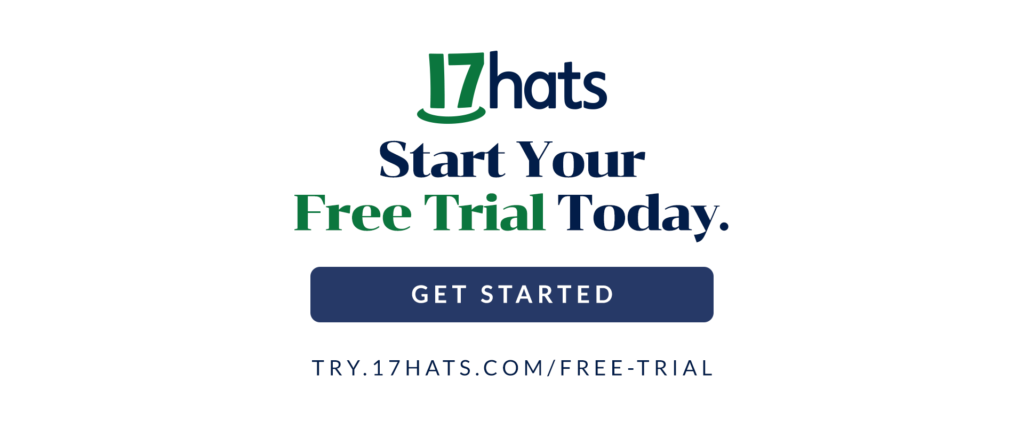 More on the blog about 17hats