Owning a wedding venue has been on my wish list for many, many years. But, like anything else, timing and money play a crucial role in the dream!
As an event planner in California and Oregon for more than 30 years, I have mostly worked for myself, and from home. Traveling to plan and officiate weddings became tiresome, to be sure. Meanwhile, my dream of owning a venue seemed farther away each year!
Then, in 2017, looking for a new adventure … my husband Rob and I bought a food truck! We soon realized that servicing a food truck from the driveway of our home wasn't really workable for many reasons, so we started looking for a larger space. Some friends suggested that we look at a 20-acre plot to our south that had been listed for quite some time.
Our initial visit was on a cold and wet February day. We learned that the land had been a tree farm. It was planted with hundreds of trees, of all varieties. But the acreage was now junk-strewn. It had been neglected for years, so the landscape was covered with tangled blackberry growth. The way that blackberry tendrils strangled every available branch … it really did look like a Disney forest. If only the evil spell could be broken, so the colors and flowers would be released!
An Eye For Potential
It wasn't much to look at. Even the house and other structures on the property needed serious work.
But then my wedding and event planner experience kicked in. My mind raced with the possibilities. I saw gorgeous trees that could be nurtured back to life. I saw gardens hiding under the brush. I imagined a bed and breakfast in the basement of the remodeled home. And I looked past the rusted-out tractors, junker cars, and blackberry brambles, and saw weddings.
Rob may not have seen all that yet. But, as an avid disc golf player, he did see open spaces where he could put up a few baskets and practice.
The Evil Spell Is Lifted
Flash forward a year, and the land no longer resembled the gnarled, forbidding forest that we had first encountered in February. The trees where breathing. The flowers were blooming. And even our business began blossoming that fall of 2019!
The food truck business was booming. With my daughter helping out, we spent days (and nights) hosting food truck events, while still finding time to clear and shape the landscape. We cut walking trails through the trees. I focused my efforts on one area where I could foresee a wonderful English garden for wedding ceremonies. And, in his spare time, Rob kept identifying more areas for disc golf baskets.
We were happy and determined – but worn out. That led to our first pivot.
We decided to sell the food truck. It was a big decision, because it meant pinning all our hopes on the property and its potential. The good news was, selling the food truck let us pay off our first construction loan.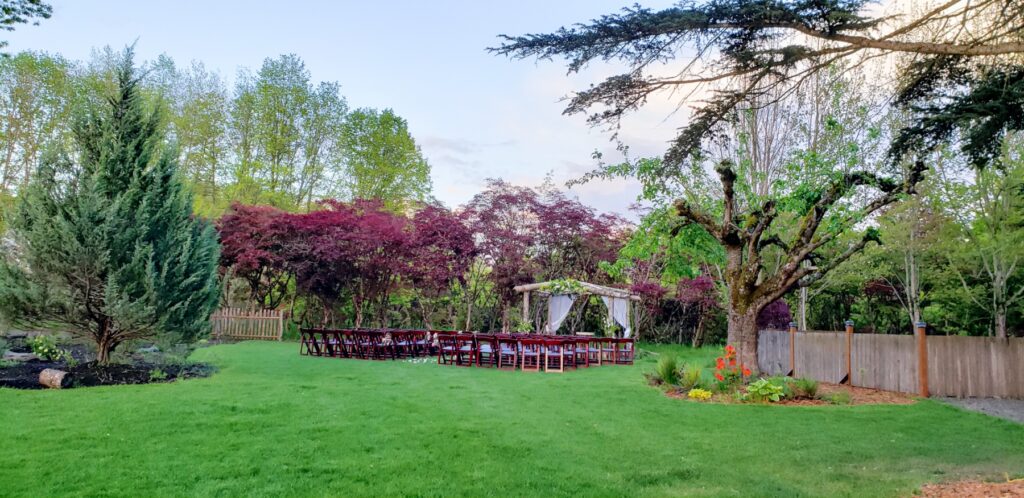 Reality Hits. Twice.
Then, in late 2019, Rob lost his "real" sales job. Ouch.
The company he was working for closed. He did qualify for unemployment for a while, so he worked on the land all day, pulling blackberries, building fences, painting buildings, and – yes – grading disc golf fairways. The property, newly named Lavender Owl Farm, was ready to show off.
We held an open house, built a website, did a bridal show, and began a social media campaign. We got lots of interest. Our first wedding was planned for June 2020! Things were looking good for booking out our first summer season.
Then … COVID-19 hit. Naturally, everything slowed to a crawl. Leads dried up, and couples were freaking out and rescheduling or canceling. I did my best to accommodate couples' wishes, but I assured them that I did not plan to rule out summer events for 2020, at least not yet. I made clear that I would be there for them, pending county and state guidance regarding social distancing measures.
In the meantime, I stopped marketing, and did some needed business development, including the April and May Business Makeover Challenges with 17hats. (Catch the replays of both here, at 17hats University.)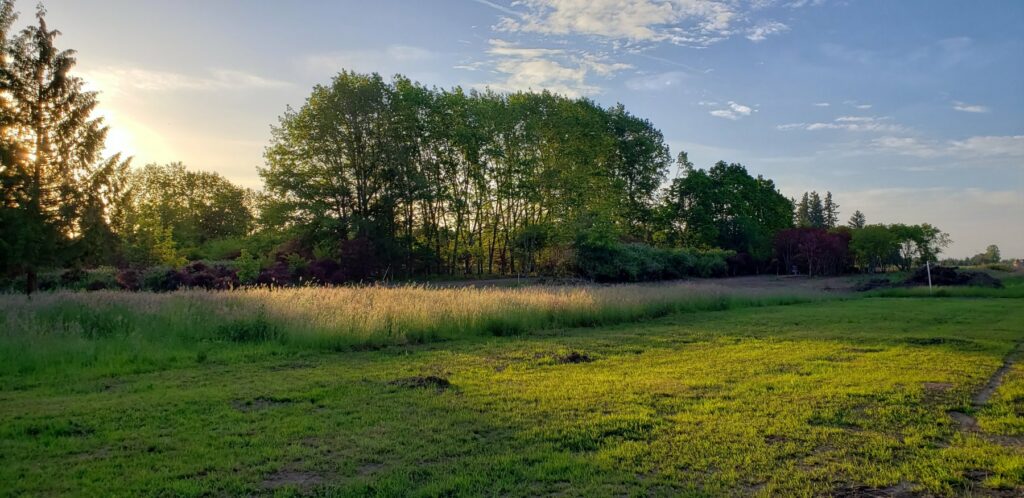 A Second Pivot
This past April, as the weather improved and the property started to spring back to life, Rob showed me what he had been working on all winter. I was amazed at what he had done! It looked like a real golf course. Tee pads of fake grass, professional baskets, and manicured fairways … it was breathtaking.
That led to pivot number two: If we can't do weddings, I thought – let's do disc golf! We built a Facebook page and created a private group. Rob finished his preparations, and soon he introduced a professional 9-basket disc golf course! He invited a few disc golf buddies over. They played the course, and loved it.
Word gets out fast in the disc golf community and within two weeks, business was booming. We set up a tee time program and scheduled our first tournament. We are planning more events, including workshops and even winter "putting" leagues inside the warehouse on the property, away from the cold weather. We even added overnight camping.
It's been so successful that we've blocked some weekends just for golf tournaments and events. The course continues to bring in new players each week, some of whom know people who are getting married!
I still have five weddings booked between August and October. And we continue to book into 2021 and 2022.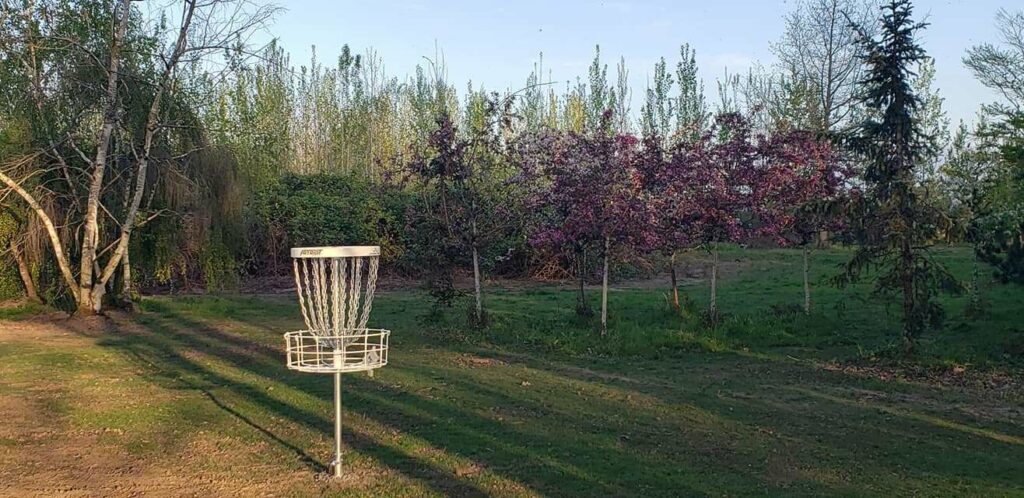 The Next Planned Pivot
As our name suggests, lavender has always been part of the dream. I planted lavender in that English garden I mentioned, and we will be cultivating areas throughout the disc golf course. We're even creating a new lavender wedding garden, that circles toward a giant teepee glamping tent. Oh, … and a line of lavender products!
The point is, it's important to diversify, especially as a small business owner. If you stay focused on just one revenue stream, another opportunity may pass you by.
This property and our experience with it have proved that. We now host weddings and other events across our gardens and indoor facilities. On top of that, we offer camping, disk golf, Airbnb, and – coming soon – lavender-focused events, products, and spaces.
Of course, if all else fails, we still get to live in a peaceful and magical piece of paradise that we can enjoy through our retirement.
Lesley Wise
The Hoot Disc Golf Course: facebook.com/thehootdg