You both benefit when you refer a friend.
For the sake of discussion, let's say you're a small business person who's thriving with the help of 17hats. (If you're reading this, the odds are pretty good.)
Further, let's suppose that you have friends. (Another safe bet. After all, you're terrific.)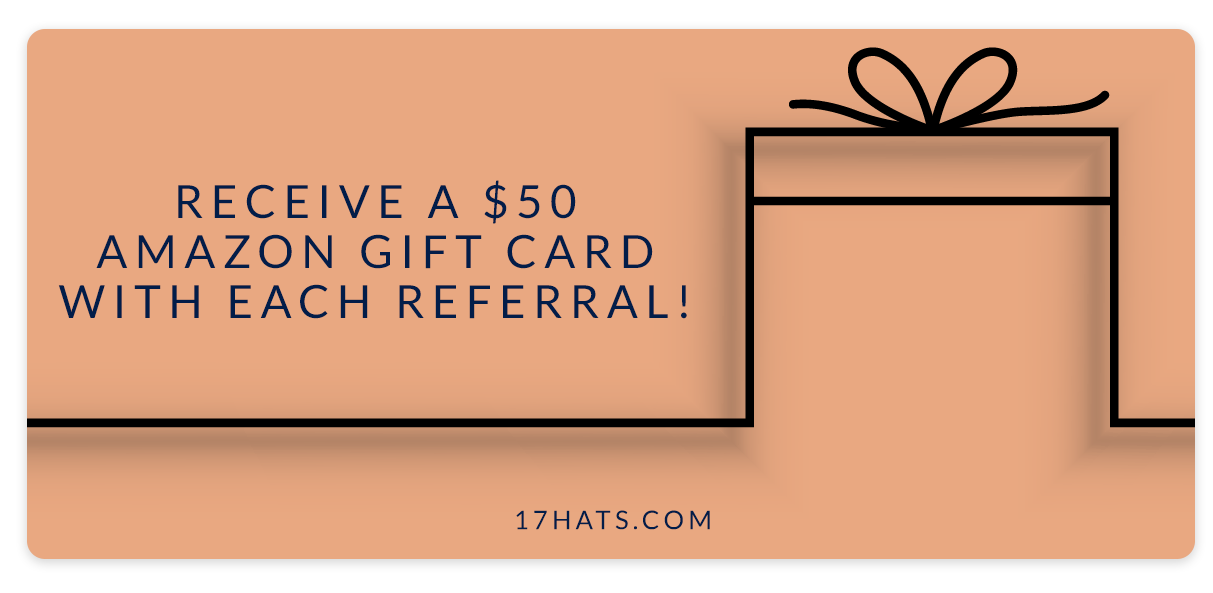 Finally, let's assume that some of those friends of yours share your entrepreneurial spirit, and own small businesses of their own. (Birds of a feather and all.)
If that's the case, then why not do them a favor and refer them to 17hats? You'll be helping to further their dream of small business success. The same benefits you saw when you organized and systemized with 17hats await them as well.
Plus, you'll both benefit beyond that, thanks to the 17hats Referral Program! Check out this great 50/50 deal:
You get a $50 Amazon Gift Card for each referral who becomes a member.
—and—
Your friend gets amazing savings – up to 50 percent off their annual membership. Learn more here…
Make sure you get credit for each referral
It's easy to ensure that you get credit for the friends that you refer to 17hats. Either:
Log in to 17hats, and click on the gear icon in the upper right corner.

On the side navigation, click Referrals and you'll see "Your personal referral link to copy and share."

Copy and paste that link into emails or social media posts that you share with friends – it will take them directly to a 17hats sign-up page and you'll automatically get credit for each enrollment.
—or—
If you forgot, or if your friend neglected to use the link you provided – not to worry. Simply retrace your steps above: Log in, click on the gear icon, and choose Referrals in the side menu.

There, just to the right of your personal referral link, you'll see "Your personal code" that you can give to your friend.

Have your friend log in, click the gear icon for Account Settings, and then choose My Account.

A few lines down, there's a space labeled "Referred by" where they can input your personal code.

Voilà! You'll get credit for the referral.
Remember: Friends don't let friends fail at business because of chaos. Turning your friends on to 17hats could be the turning point in their business!
---
Note regarding 17hats Referral Program: Gift cards will be sent electronically to your registered email address approximately 120 to 140 days after the referred account purchases a subscription. The referred account must remain active for at least 120 days. Valid for paid U.S.-based accounts in good standing only. For Non-U.S. accounts, please contact us to arrange payment via PayPal. Non-U.S. referral payments are at our discretion, and only eligible for referrals made in the 90 days prior to sending us your PayPal information.